Jason's Exclusive Mastermind Program…
From Zero Idea to 7-Figure Acquisitions
Not Needed: a top biz school degree, impressive biz experience, or your own down payment/equity [we'll raise equity from investors]
Jason's method saves you from wasting free founder's equity on too many advisory board members, while increasing the quality of your M&A deal team
Tax deductible once you legally form your company
Monthly Zoom calls w/ Jason & a private FB mastermind group for more Q&A
In-depth program walking you through how to buy your first 7-figure company with stable cashflow
Jason is an active acquisition entrepreneur who bought two companies worth in 15 months
Schedule a Free M&A Consultation with
Jason's Associate
Jason's trusted associate deeply understands the M&A process will try to give you as much advice as possible in 30 minutes. We want to provide real value to you specifically on this call. If we can't help you or we aren't a fit to work together in the future, we'll certainly direct you to someone who can better help you.
Limited M&A Consultation Slots Each Week.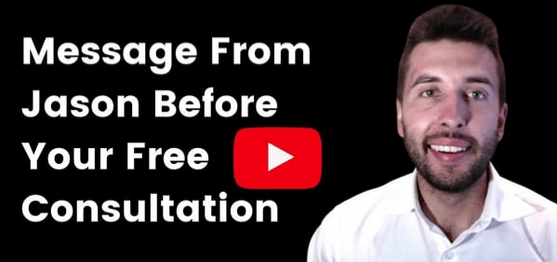 What Buying Companies Did for My Life…
(And Why I Am So Passionate About It)
Before I Bought My First Company:
"Was I destined for 9 to 5 my entire life?" ran through my head daily.
I returned home from Dan Pena's Castle Seminar in December of 2018.
I was sleeping on my grandma's pullout couch in my early months when building my deal team and looking for deals… thanks grandma!
I leveraged everything I had to get started. Bye-bye 9 to 5!
Grandma's pull-out couch
After My First 7-Figure Deal in Omaha, NE
In August of 2019, I purchased a manufactured housing community in the Omaha, Nebraska area.
This first deal put me in a MUCH better place in terms of my net worth.
Former apartment complex in Omaha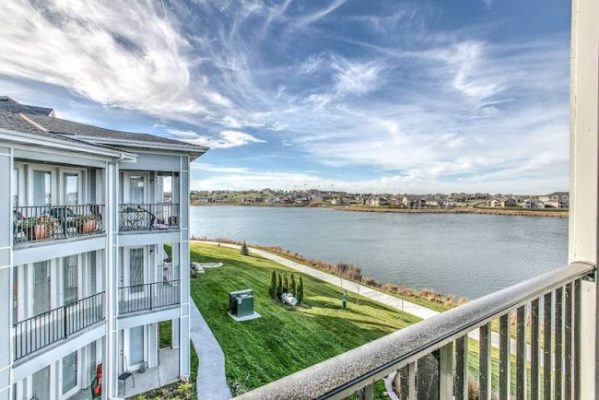 After My Second 7-Figure Deal in Tampa, FL
In November of 2020, we purchased a professional plumbing service company and its real estate with a great 25 year history and great clients.
Now, I am living in a fairly upscale apartment in Tampa Bay.
This is only the beginning for me. Much more to follow…
The view from my new apartment in Tampa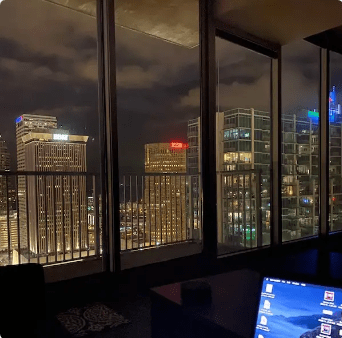 After My Next 7 or 8-Figure Deal ???
To be continued.
Just wait.
It will happen as I buy more great companies.
Why not have big dreams?
Future Florida Mansion???… LET'S GO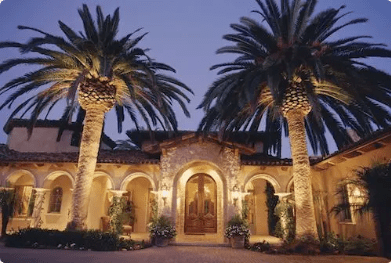 What Makes Jason's Program Different From All the Rest?
Let me say this first: Other instructors in this space of small cap M&A (deals under $50M) focus on the wrong things. Although, some of them are better than others.
But, some of them have never bought a 7-figure company themselves.
We blow everyone else out of the water with our program for a multitude of reasons. We are 10X more honest, we have a slightly lower investment cost, we have WAY better information, we have better support such as monthly Zoom calls and a members-only mastermind group, and more (some things are hard to explain on a webpage, especially if you are inexperienced with M&A).
Notably, our program has two key differences from ALL the rest:
Difference 1
We Show You How To Build an M&A Deal Team That Will:
… save you a ton of time (our process is very quick, as it should be). You aren't looking to get married. You are looking for effective people who can do a job, nothing else.
… prevent you from having to pay unnecessary fees to people you can't really trust.
… save you from giving away more free founder's equity than you need to (you do not want a traditional board of directors that sits around and twiddles their thumbs all day… that is why we call it a "M&A deal team").
Difference 2
We Focus on Buying Companies That are Diamonds in the Rough and Cash Flow on Autopilot, Even if That Means Doing Slightly Fewer Deals:
Hardly anyone talks about this either. NO other program knows what I know on this topic. NONE.
Anyone can do a mediocre deal. But, this program is about getting rich, and mediocre deals won't get you rich.
Every other program is just focused on getting deals done. This program focuses on getting deals done too, but we also focus on getting GREAT DEALS DONE… Deals that cash flow consistently and on autopilot.
Why Should You Buy Companies?
Does It Really Work?
Success leaves clues… Look at the wealth that has been created: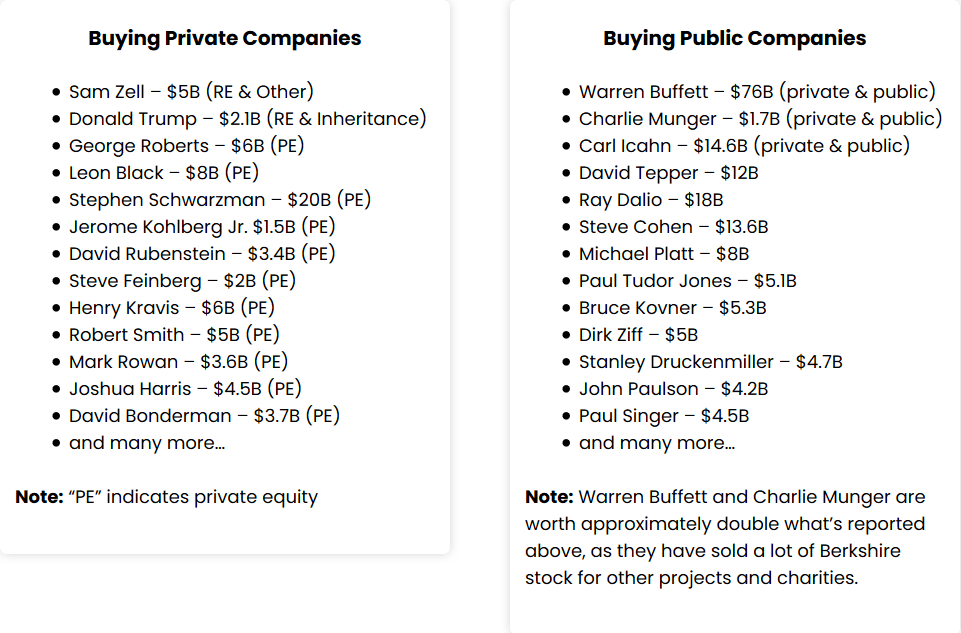 The diagram below explains how all these billionaires got so damn wealthy.
Why didn't they tell us this in high school or college? They only had us sitting in desks for 15+ years…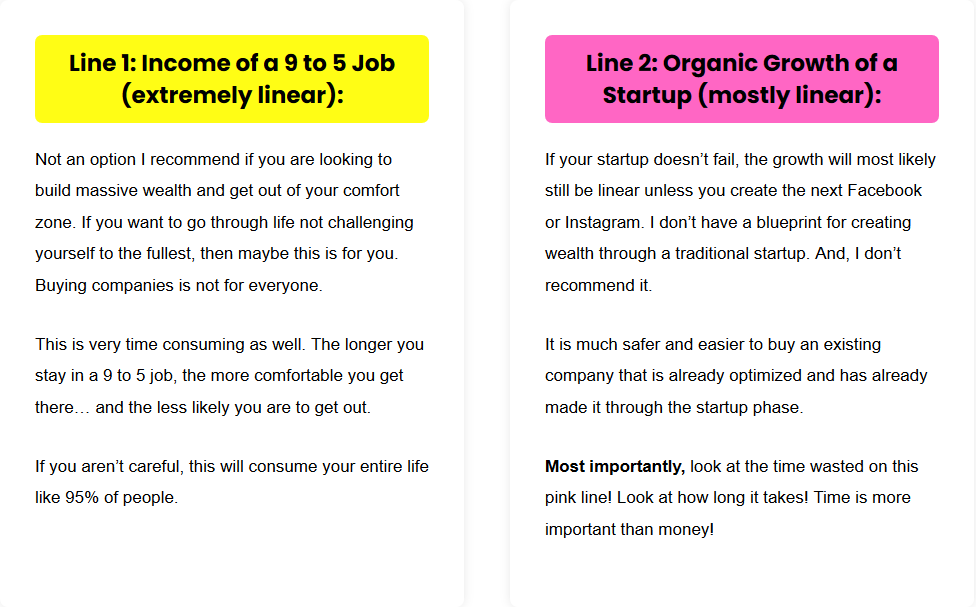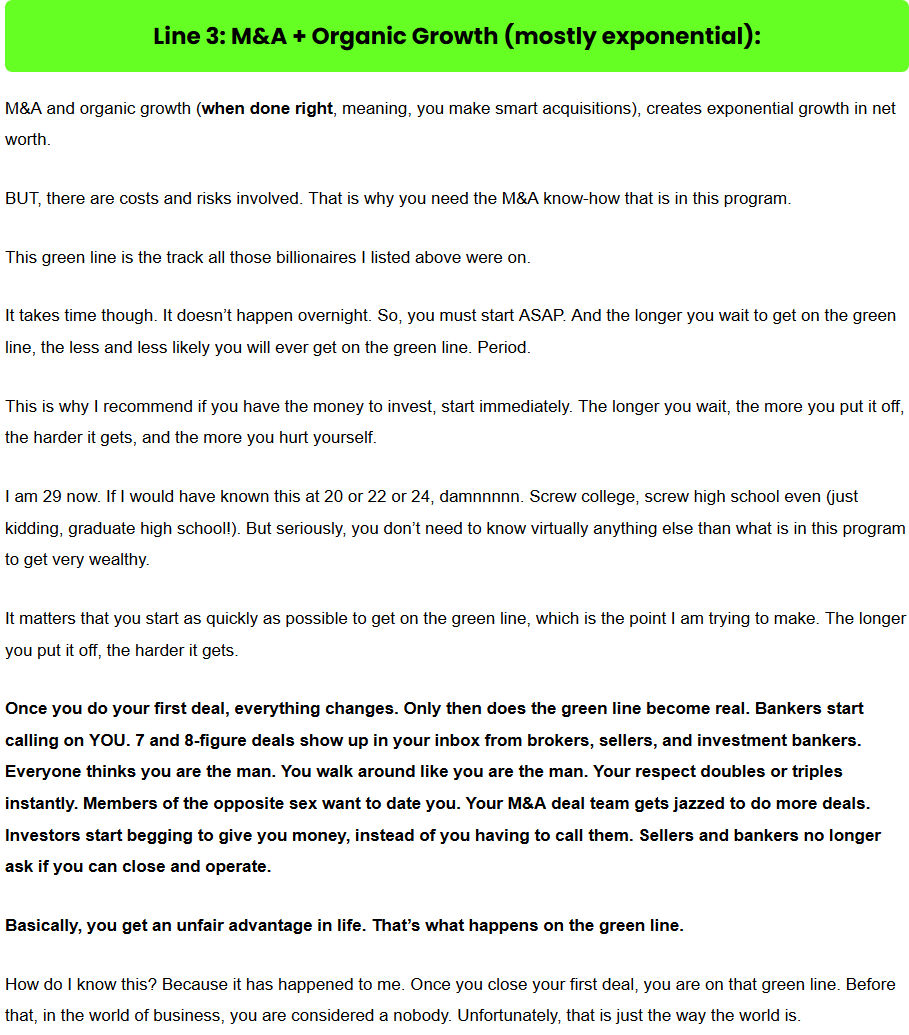 Let us take the thinking and hardship away by giving you the step-by-step playbook Jason used to close two 7-figure deals worth in the last 15 months. You can literally copy Jason's methods for the cost of a community college course. Check out the curriculum:
The Intro: Creating Wealth Through Buying Businesses
Module 1: Everything You Need to Know About Picking an Industry and Creating a Bulletproof Investment Thesis So Your Growth Potential Isn't Slowed or Unprofitable
Module 2: Everything You Need to Know About How to Recruit a World-Class M&A Team Without Wasting a Ton of Time or Equity
Module 3: Everything You Need to Know About Recruiting World-Class Accounting Representation So You Are Strongly Protected While Avoiding Exorbitant Fees (What Matters vs. BS)
Module 4: Everything You Need to Know About Recruiting World-Class Legal Protection for Your First Transactions
Module 5: Cultivate Endless Deal Flow in an Efficient Matter, Fluff & BS vs. What Works (Arguably the Most Important Thing)
Module 6: Analyzing Investments, Business Valuation, and Performing Due-Diligence: What You Need to Know to be Successful (See the Vault for More on This)
Module 7: How to Negotiate Price and Terms with Sellers Like a Veteran Dealmaker
Module 8: How to Sell Your Deals to Banks and Get Lenders Competing to Finance Your Acquisition (Including the Seller)
Module 9: Everything You Need to Secure an SBA 7(a) Loan for Your Acquisition (for US Only)
Module 10: How to Raise Equity (Cash) the Right Way So You Can Close on Grade "A" Companies that Will Never Offer You Significant Seller Finance Because They Can Command Cash From Other Buyers
Module 11: Transitioning to Ownership, Operations, and Scaling Your Business
Free Bonus #1: Jason's Legal Vault
NOTE: Most of these legal docs were drafted by an M&A lawyer who was Ivy League trained and has worked for big firms on deals in private equity & venture capital and closed well over 100 deals worth over $35 billion dollars.
Brighter Living Properties (First 7-Figure Deal):
CLICK to expand contents
Brighter Utilities (Second 7-Figure Deal):
CLICK to expand module contents
Miscellaneous:
CLICK to expand module contents
Free Bonus #2: Jason's Vault of Recorded Calls and Webinars / Case Studies with Other Acquisition Entrepreneurs
Free Bonus #3: How to Succeed as a Founder
Free Bonus 4: Monthly Zoom Calls with Jason and Other Acquisition Entrepreneurs
Free Bonus 5: Get Access to the Members-Only Group to Connect with Jason and Acquisition Entrepreneurs Across the Globe
Free Bonus 6: Real-Time Accountability/Progress Tracking w/ all members of the program to create internal competition and to "Hard drive" results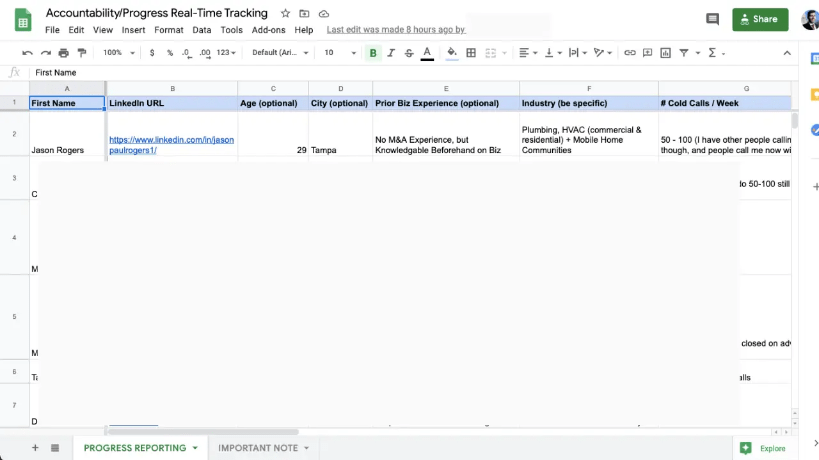 Everyone following the program tracks their progress in this single spreadsheet approximately once per week. This, along with the Zoom calls and the FB group, works to keep our clients accountable and get them where they need to go… We want to drive out human potential. We take results very seriously.
Value Breakdown
Program Content: Jason Currently Charges /hr (or more) for M&A Consulting. If we do the math, that is: $1,000 x 45 hours (35 in video + 10 in audio) of Fast-Paced, No-BS M&A Content:
(all content is only counted once, either in video or audio form)
Jason's Personally Crafted Scripts, Templates, Check Lists. Jason's Letter of Intent, Purchase of Sale Agreement, Loan Package, Legal Entity Formation Documents, the Entire Legal Vault: (At the Very Least)
Access to Monthly Q&A Zoom Calls and the Members-Only Mastermind Group with Jason and Other Acquisition Entrepreneurs:
Access to All New Content Additions and Updates… That's Right, as Jason and His Clients Do More Deals (Jason is Gunning Down 8-Figure Deals at the Moment), You Can Grow with Them… We'll Update the Program as We See Fit with New Content and Make Sure You Have All the Best Information to do Bigger and Bigger Deals as Your M&A Career Progresses. That's What It's All About. Your First Deal is Only the Beginning… Build an Empire of Great Companies with Us…
Education Cost Comparisons
Avg. year at community college = ('18-'19) (source: College Board)
Avg. year at in-state public 4-year college = ('18-'19) (source: College Board)
Avg. year at out-of-state public 4-year college = ('18-'19) (source: College Board)
Avg. year at private 4-year college = ('18-'19) (source: College Board)
Avg. year at top 8 U.S. MBA programs = ("18) (source: reported by each school)
Avg. year at U.S. MBA program tuition only, excluding living expenses = Over (10+ sources)
This is per year… But, we don't need any of these degrees to buy companies and get wealthy.
And costs have increased for most of these. Don't forget the time wasted too, which is more important than the
Other Cost Comparisons
M&A accounting fees from big firms = to depending on the deal (success-fee or not)
-> What I teach you to do instead simply generates better results, and will save you time and money.
M&A law fees from big firms = to depending on the deal (success-fee or not)
-> Again, what I teach you to do instead generates better results, wastes less time, and is way cheaper.
… I say "success-fee or not" because you still have to pay the bill to these firms at some point, regardless.
In this program, we teach you how to eliminate the majority of these costs (potentially 25 – 100k in legal and accounting fees saved by following the methods Jason used to close his first two 7-figure deals).
And those savings are just in the first year alone. What about the savings 5, 10, 15 years into your M&A career? Incalculable. The savings on this alone pays for the program many times over…
Bottom Line…
This is the only program you'll ever need on buying great companies with no money of your own.
The beautiful thing about this program is the freedom it provides. You can stop making acquisitions when you'd like. You can buy big companies. You can buy small companies. It is all up to you.
Being the owner of a company that is already optimized is what creates that freedom.
The freedom of having time to do what you want. The freedom to spend money on things you enjoy. The freedom to provide a great life for your family. Not spending time being told what to do by your lazy boss at work.
That is why owners of great companies have the best lives. That is why our program is so popular.
Sure, I push hard to do as many deals as I can – as do many of the entrepreneurs in this program. But that is a choice I make.
You may want to only buy one or two companies in your entire business career.
Or maybe you just started thinking about M&A and you don't know what you want.
With this program, the sky is the limit. The choice is yours on how far you decide you wanna go.
There isn't anything else I'd recommend for creating a better, more fulfilled life full of responsibility, influence, and excitement than what I am doing and teaching others to do.
And, if wealth is your main priority in life and all the rest is secondary, then you should already know that buying companies has created more wealth than anything else… Just look at all the billionaires I mentioned above.
If you follow it, this program is so useful that it *can* literally REPLACE certain advisors / deal team members that other people will recommend you work with. That's one of the main reasons I built the program… So, my clients can have more self-reliance in their M&A careers.
And that's exactly why so many entrepreneurs are singing the program praises… it's just incredibly useful, and it provides way more value than the investment cost.
This program is useful for the same reason this proverb has been around for so long: "Give a man a fish, and you feed him for a day. Teach a man to fish, and you feed him for a lifetime."
Advisors, board members, deal team members, employees – they *can* be great assets… But they are temporary to your life. They are the "fish" that are just given to you – useful in the moment, but only temporary.
YOU alone are your biggest asset… And you'll be your biggest asset for the rest of your life. For your own good, stop waiting and act like it!
When you implement this battle-tested-in-2020 program and copy the proprietary strategies I have created and used to buy two great companies worth $3,845,000 in the last 15 months, the likelihood of you becoming mega-successful and ultra-wealthy exponentially increases.
It's simple: I am in this for the long haul. I am starting a movement of entrepreneurs around the world who will buy great companies and live lives they never thought possible.
Maybe you think focusing on getting your money right is selfish? Think again. Capitalism is ruthless. As an employee, you can always get fired at any time. You have a responsibility to yourself to be all you can be… And that is why capitalism works so well. If everyone else looks after themself first, then you should too.
You can either choose to be an employee for the rest of your life, or become a business owner. Don't say you never had the choice though. Everything you need is a click away.
Truth is, in the United States (and in the UK, CAN, AU, Europe) we need acquisition entrepreneurs for our economies right now… The wealthy baby boomer generation needs to sell their businesses and have young entrepreneurs take them over for our economies to stay strong. This is part of the reason we are losing the "economic war" to China… We simply need more acquisition entrepreneurs.
In other words, we need people who are bold, like our ancestors. People who won't back down from a fight, but rather, people who will be invigorated by a good fight or a challenge.
The opportunities ahead will be "once in a lifetime."
Don't believe me? See what the California Association of Business Brokers had to say in a recent article they put out:
"Retiring Boomer business owners will sell or bequeath $10 trillion worth of assets over the next two decades."
"These assets are held in more than 12 million privately owned businesses."
"More than 70 percent of these companies are expected to change hands."
"The sale of almost 12 million businesses over the next 10 to 15 years represents a significant increase in the annual number of businesses that will be sold."
This is the best scenario for us buyers of businesses… high supply, and low demand!! A real opportunity to rollup a fragmented industry at a low multiple and exit at a much higher one!
Private equity firms and strategic buyers will always "pay up" for scale. They have deep pockets of committed capital from pension funds, endowments, and insurance companies, but they have no willingness to do any dirty work. They just want to write a check.
Luckily, the small cap companies we will be targeting are slightly too small for big firms, so we can get them at a major discount.
These big firms just want to buy the finished the product, and accept a 10% return for their investors. They wanna sit behind desks in suits (fake entrepreneurs).
10% isn't good enough for me though. I hope it isn't for you either.
That is the game. Buy a bunch of smaller companies low. Integrate into one, and sell high to a bigger firm that is sitting on tons of cash and willing to overpay.
Buy low, sell high baby. Warren Buffett-esque. Let's go.
Included:
Everything Jason knows, there are no up-sells
A step-by-step program that will allow you to impress bankers, sellers, & investors in the golden era of M&A when millions of baby boomers are retiring
How to structure deals so you keep the majority of the equity without using your own capital
If you follow instructions, you'll be primed to do more deals after your first (there is significant value in buying smaller companies at 2 – 4x EBITDA and selling an integrated company at a higher multiple).
Not Included:
Jason will not invest in your deals, but he will teach you to raise the money for them (he would only be hurting your long-term success by giving you the money when there are TONS of investors looking to put money to work… you just have to LEARN how to extract it…)
Jason will not take any equity in your entity even if offered (which sometimes happens, but he doesn't have the time anyway – he is too busy with his own businesses)
Use This Investment as a Tax Deduction:
In general, if you plan on using this program for its intended purpose (to buy a 7-figure business), once you form as a legal entity you can most likely use this training program as a tax write-off.
We are not tax accountants, so verify this with your accountant if you have any questions. We can't guarantee that you'll be able to use the course as a tax deduction. But, it has been our experience that this is the case.
This basically lowers the program cost by 20% (or whatever your tax rate is).
For more info on this, read here and here.
If You Want to Make More than a Year, Stop Making Excuses and Wasting Time…
If you want to make less than 100k/year, you don't need my help for that, and this program isn't for you.
But, if you want to make more than 100k/year, I can certainly put you on that path.
Excuses are most-likely holding you back…
You don't need a J.D. or M.B.A.
You don't need a ton of business experience (some do it with none).
What you do need is a massive-action mindset and a mentor. Period.
The only way to find out if you are right for this or anything in life is to force yourself into the unknown… To get in the arena of business and under the bright lights where you are out of your comfort zone.
Unfortunately (or fortunately, depending on how you look at it), this is the only way. This is what separates the "haves" from the "have-nots."
Without action into the unknown, you'll never what you're capable of.
Worse than that, you'll regret the time you wasted. It is a proven fact that people usually regret the things they didn't try, the risks they didn't take – not failures or the result of decisions but inaction.
And trust me, you compile a long enough list of regrets or even a few big ones, they get really painful to think about as the clock ticks (I know from experience).
Invest in Yourself… Choose the Package that Best Fits Your Situation…
We do allow existing clients to upgrade from the Gold Package to the Platinum Package at the difference of the two prices. So, if you want to lower the cost of your initial investment, you can always upgrade to the platinum program later.
Because there is only one of me and my time is limited, prices may need to be raised once the monthly Zoom calls become too crowded.
I value the quality of this program much more than the volume of projects/entrepreneurs/students I take on. Selectivity is paramount to being successful in business, M&A, hiring, and life.
We *never* discount prices unless it's out of charity (i.e. a 3rd world entrepreneur with tremendous hunger).
Gold
Most popular package (has everything you need)
A Step-By-Step Mastermind Program on Creating Wealth Through Buying a 7-Figure Business with Stable
Cashflow… With NO Money of Your Own, NO Prestigious B-School Degree, and NO Impressive Executive Biz
Experience… I KNOW BECAUSE I DID IT TWICE IN 15 MONTHS…
Tax Deductible Once You Legally Form Your Company
Monthly Zoom Calls with Jason and Other Acquisition Entrepreneurs
Jason's Vault of Calls & Role Plays with Other Acquisition Entrepreneurs
Access to Any New Uploads As Jason & Clients Do Bigger Deals
Access to the Members-Only Mastermind Group with Jason and Other Acquisition Entrepreneurs
Everything Jason Knows in One Program
Most Popular Package
Platinum
Everything in the Gold Package
Night in Tampa Bay, FL with Jason to Start the Consulting Program (costs included)
One Hour of 1-on-1 Private Consulting Every Month for 12 Months During which Jason will Advise You On Making
Successful Acquisitions (Zoom or FaceTime.
Access to Jason's Personal Email So You Can Ask Questions As You Progress
For Those That Want Advice Tailored to Their Specific Situation
25k Investment in Yourself and Your Business
Which Package Will Get You on
the Green Line the Fastest?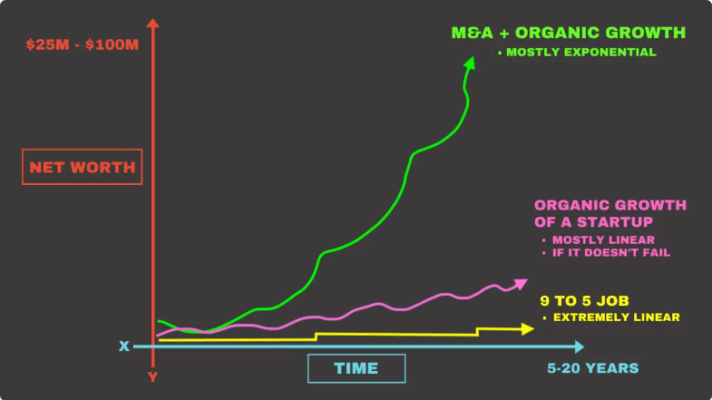 Both packages will get you on the green line, but if you have access to 5 figures:
a.) What are you waiting for?
b.) Get in the platinum package where you can go 1-on-1 with me.
The platinum package will get you on the green line faster and produce better results.
But, go with what you can afford at the moment (you can always upgrade later).
Inaction and procrastination are the true enemies of success in business.
I explain further in the video below if you are having trouble choosing…