The #1 Program to help you to close more video deals!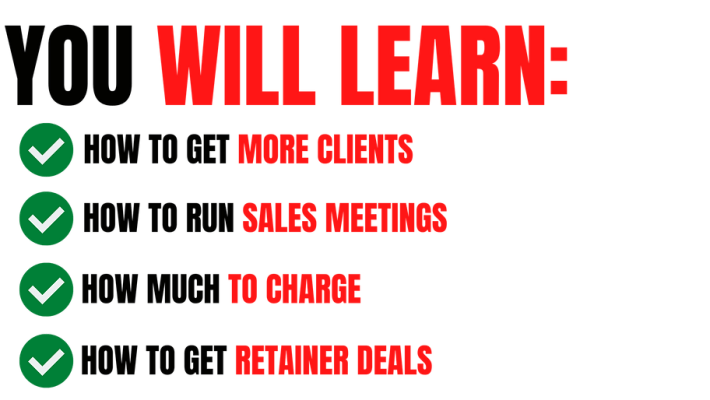 MODULE 1:
Videos That Businesses Will Pay Big Money For
Inside Module 1 we will explore 14 video types that you can sell alone or use in tandem to sell high paying multi video retainer based strategies.
– 14+ Video Types To Sell
– How To Sell Each Video Type
– How To Use Them Together To Close Bigger Deals
– How To Craft Multi-Video Strategies
MODULE 2:
Lead Generation Through Networking
Finding new high paying clients is actually not hard if you're looking in the right places. We'll show you how we have built a network that sends us weekly high quality leads ready to open their wallets and invest in video.
– Different Networking Types
– Networking Strategies
– How To Fill Your Schedule With Meetings
MODULE 3:
Online Lead Generation for your Business
Just like generating new leads via networking, finding new clients 100% online is not difficult if you have the right tools and strategies. We will show you how.
– 100% Automated LinkedIn Lead Generation
– Generating Leads For FREE Using FB Groups
– How To Use Blogs & Vlogs To Generate Leads
– Generating Organic Leads Using Google
MODULE 4:
Business Owner Discovery Interview Library
10+ detailed discovery interviews with real life business leaders across a wide range of industries. Plus full video strategy creation for you to copy for each industry.
– See First Hand How To Run a Discovery Meeting
– What Question To Ask
– How To Use That Info To Build a Video Strategy
MODULE 5:
Discovery & Sales Guide
Inside Module 5 you will learn exactly how to close high ticket video strategy deals from start to finish. This is where you take your new leads and turn them into high ticket deals.
– The Entire Discovery Meeting Strategy Breakdown
– How To Run Sales Meetings & Close The Deal
– How To Price Your Services
MODULE 6:
Group Trainings & Strategy Sessions
Inside our FB community we have weekly trainings, Q&As, and coaching sessions teaching everything from sales and strategy creation to organization & lead generation & and even taxes & mindset. You'll get access to them all in Module 6.
– Every Recorded Club Training We Have
– Access To All Future Club Trainings