In early 2018, we created the first version of this course walking you through exactly how we'd research, plan, and grow a new site from scratch.
A few months later, we decided to take the research and planning done in this course, and actually create a blog from it.
8 months later, that blog was getting 150,000+ visitors per month, from the research and planning you can see in this course.


This is one of the only courses where you get to see an SEO expert plan out a new site and get proof that the plan worked.


But it's more than that. This course gives you an inside look at how we operate at Growth Machine. It's a step-by-step guide through the strategies we've used to get 3,000,000 visitors per month across all the content we've created. Like how we've grown this site from 50,000 visitors per week, to 300,000!
It's how we've gotten on the first page of Google for topics as diverse as:
"fasting for weight loss"
"buy bitcoins with a credit card"
"uber vs lyft"
"lion's mane mushroom"
"book marketing"
"location independent jobs"
"how to stop a panic attack"
"how to increase your credit limit"
"learn ruby on rails for free"
It's a process that can work in any niche, regardless of your experience level.
And now, you can learn that process.
Introducing: Build Your Own Content Machine
In the last year, we've had the pleasure to work with major brands like Yummly, Patreon, Kettle & Fire, ButcherBox, Credit Card Insider, Perfect Keto, Tenth Street Hats, Four Sigmatic, and many more.
But the vast majority of websites aren't good fits to work with us. Not everyone can afford $8,000+ a month to have us run their content marketing. Not yet anyway.
That's why we created "Build Your Own Content Machine." So that you'd have the exact processes, tools, and guidelines we use to grow sites from 0, to 100,000, to 1,000,000 monthly visitors, so you can do it yourself for a fraction of the price.
In this course, you'll learn exactly how we plan, prioritize, write, publish, promote, and optimize our content. It's a step-by-step guide to developing a bulletproof SEO strategy that can take you from 0 to 100,000+ monthly readers in less than a year.
And this isn't some abstract, "talking head" course where someone speaks over a bunch of slides.
It's an over-the-shoulder view of us planning out Cup & Leaf, doing all the work in a way you can easily follow along with on your own.
We explain everything as we're going, with clear steps you can follow to duplicate the process for your own site, removing any hesitation from the process.
You'll even get a detailed spreadsheet, based on the spreadsheets we use to plan our clients' content, that you'll be able to fill out as you go.
That means that by the end of the course, you will:
Discover dozens of article ideas to create content around
Know what article ideas will bring you the most traffic
Be able to assess what topics are easiest, and hardest, to go after
Learn exactly how to write an article that's optimized for ranking on page 1
Develop a strategic promotion process that will bring new traffic to each article
But most importantly, you'll come out of the course with a plan in hand for executing on your content marketing, and in a way that's designed to bring in search traffic.
In fact, you could buy the course today, take the course over the weekend, and get to work Monday knowing that you have a plan that will put you on track to start bringing in serious amounts of free traffic from Google every single day.
Are you ready to build your content machine?
Course Curriculum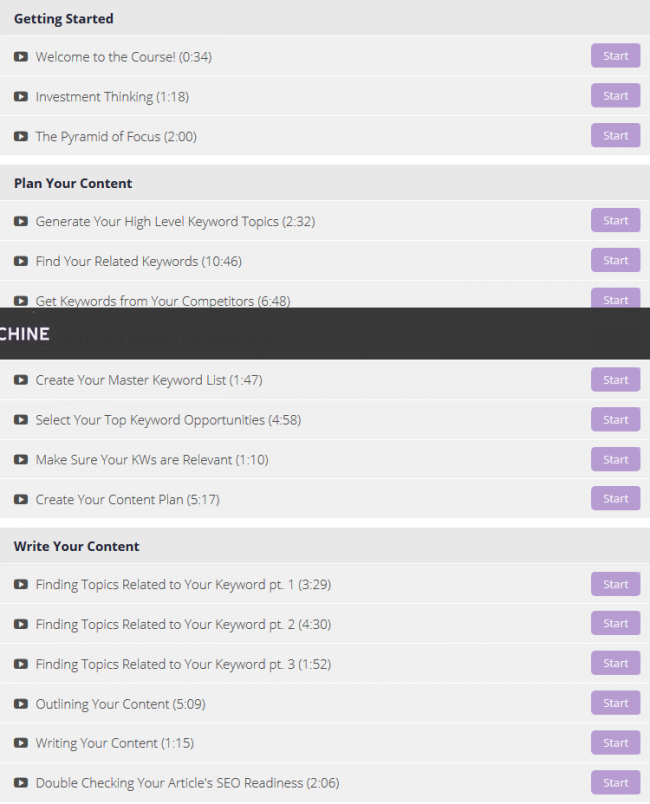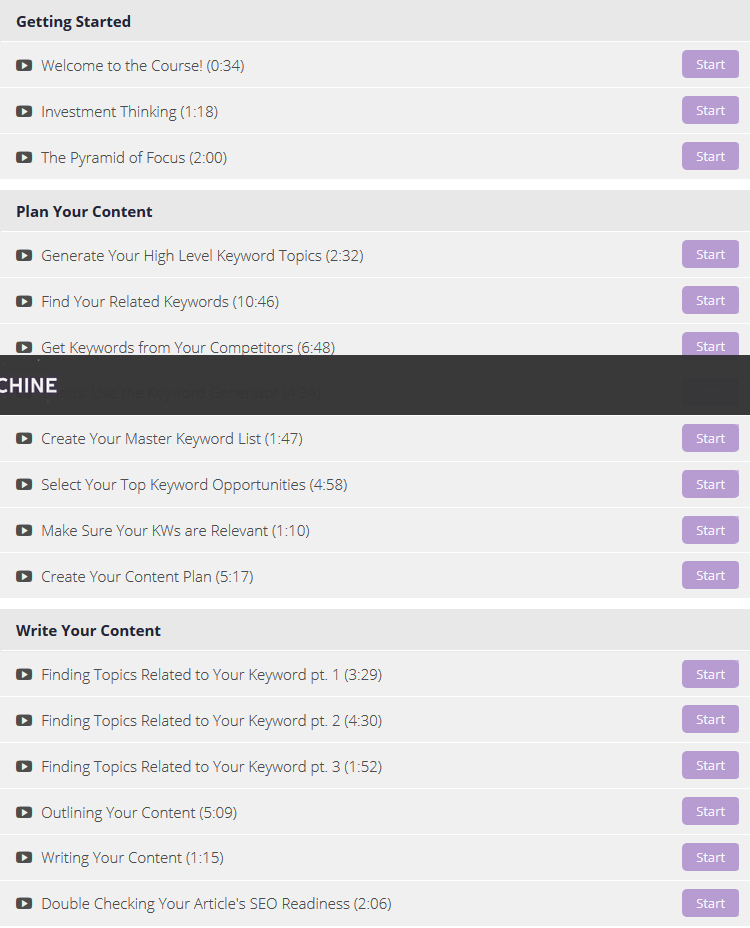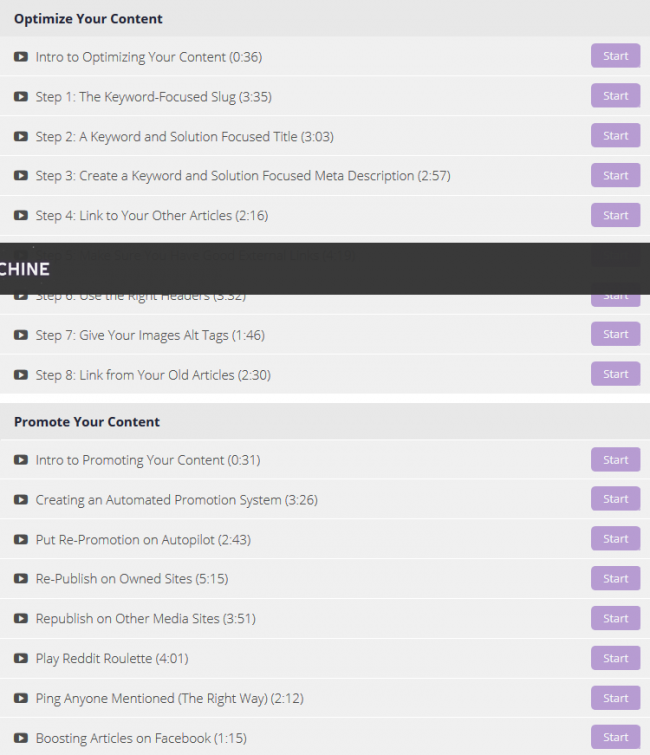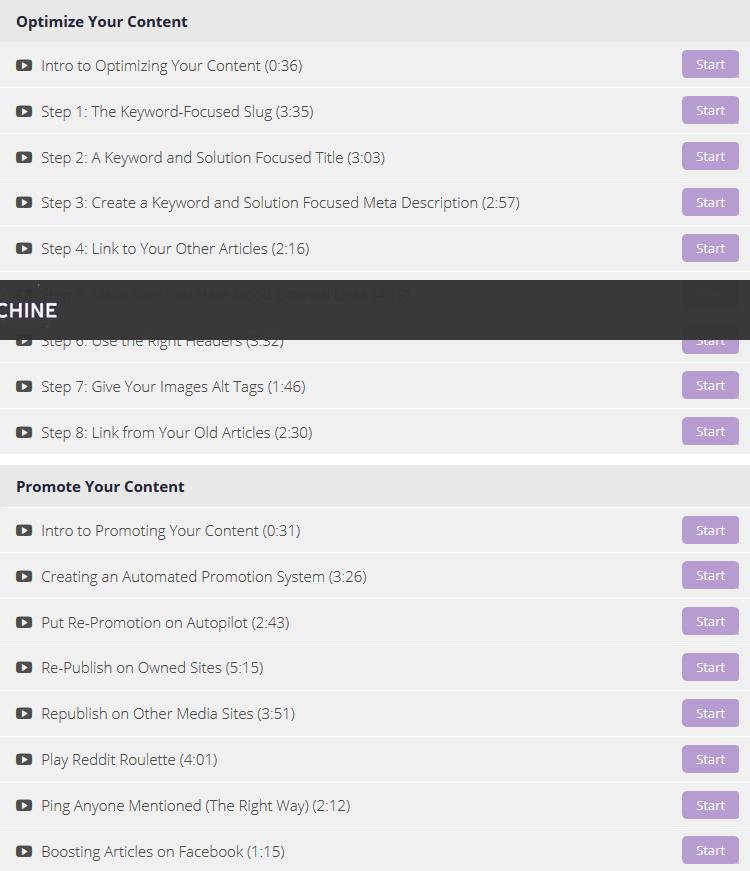 Nat Eliason – Build Your Own Content Machine Contains: Videos, PDF's
Screenshots (Click to enlarge)