Copy Our Simple One Product Formula That Made $1M In Only 4 Months
What is One Product Profits?
One Product Profits is a 9-week training program with the goal of creating a one product store using our proven template, and getting it profitable in as short of time as possible by following a step by step roadmap from our million dollar case study store.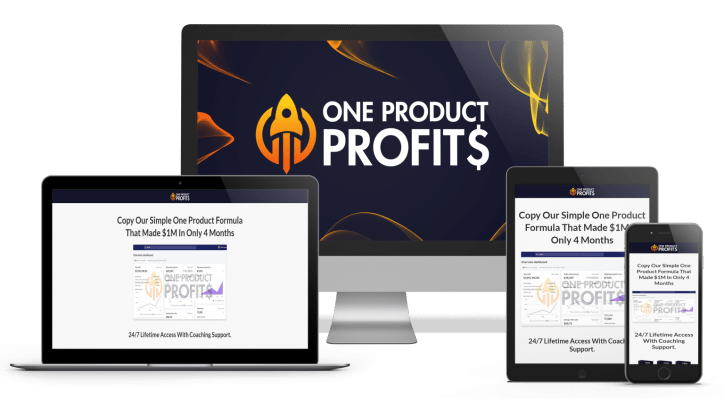 Who is One Product Profits for?
Brand new online marketers
​People who want to build a side income
​People who want to create financial and/or location freedom with an online business
​Anyone who has tried ecommerce and failed
​People already selling that haven't scaled to 7-Figures with an online store
​Experience marketers that want a proven template to expand their business
When You Join One Product Profits, You Get Full & Immediate Access To:
Week 1: Intro and Product Selection
Our One Product Store Revealed! You get to see everything – the product, the store, and the ads. And we'll walk you through the complete system we'll be using together.
Proven Product Selection – This module will walk you through how we select proven products that can sell $1000K+ a day. We'll walk you through our product selection criteria, and give you our complete system for finding the right products to sell.
Week 2: Building Your One Product Brand
Create Your One Product Brand – Once you've selected your product, we'll show you how to build your store to look like a professional brand that people can trust. No tech skills required.
Proven Descriptions That Sell – Don't worry if you don't know how to write product descriptions. We'll give you our proven template to use, and show you exactly how to write a beautiful product description that converts!
Proven Descriptions Demo – Not only do we show you how we wrote the product description for our million dollar store, and give you a template- we'll also show you a live demo writing a product description for a new product.
Week 3: Pre-Launch!
Pre-Launch Store Setup – Now that your store is built, we'll show you how to make sure everything is optimized and ready to go for launching ads and getting sales!
Creating Your Ads – In this video we'll show you how to get your high converting video ad made (you can outsource this for $20-$40), how to write your ad copy, and how to create scroll-stopping thumbnails.
We'll even give you access to the same suppliers we use to sell thousands of orders per month, so you can fulfill your orders easily and efficiently, while saving money too!
Week 4: Launching Your Ads
Week 5: Ad Optimization and Scaling
Week 6: Business Operations
Week 7: Scaling To $100K
$100K Month Overview – This super valuable video takes you inside the first month of our store when we scaled to over $100,000 in sales super fast. You'll see exactly how we did it.
Scaling With Lookalikes – Time to start scaling your store to bigger numbers! I'll show you how to create lookalike audiences, which open up a whole new world of opportunity to start testing more ads and creating more profits. You'll get my proprietary strategy that is basically like printing money!
Week 8: Scaling Past $100K
Week 9: Million Dollar Brand
PLUS You Also Get These Bonuses!
Bonus 1: Million Views Video Ads
We'll show you exactly how to build your own high-converting video from scratch using free research methods and tools. This is the science to getting millions of views on your videos.
Just one video got us over 18 Million Views and made over $1.9 Million in sales!
Value = $997
Bonus 2: Private Coaching Group
This is not just a course without support. Inside our private members coaching group, we will give you near-immediate support with your questions.
This is like getting coaching included your membership, with ongoing live trainings and Q&A sessions.
Value = $997
Bonus 3: Google Ads Case Study
After we scaled with Facebook Ads, we started using Google. Just 2 of the campaigns I'll show you inside are making $10K per week in additional revenue with small, automated budgets.
I'll show you how to set up Google Analytics, Google Merchant Center, and use Google Ads to make more sales outside Facebook.
Value = $997
The FULL One Product Profits Million Dollar Case Study Course ($4,997 Value)
Million Dollar Store Template ($997 Value)
Bonus 1: Million Views Video Ads ($997 Value)
​Bonus 2: Private Coaching Group ($997 Value)
​Bonus 3: Google Ads Case Study ($997 Value)