Local Kingpin is a 7+ module comprehensive training course with over 20 videos.
You will learn how to set up local funnels, produce leads cheaply, and more, in order for you to make
money by selling leads to clients or using them in your own local business.
Module #1: Setup & Local Case Study
We want you to see EXACTLY how this process works – and that it REALLY does work!
This case study shows how Bradley put together a real local leads business and goes into details on Adwords use and more!
Detailed – Get started fast with over the shoulder examples and details.
Real World – You'll see exactly how this is done in the real world…not like other courses where they expect you to already know how to implement!
Examples – Beginners and Experienced marketers can learn from watching Bradley work through real world issues while setting up his own local lead generation setup.
Module #2: Building Local Funnels For High Conversions
Lots of people teach advertising, but the truth is it doesn't matter if your leads don't convert!
That's why we're included landing page templates and design in this powerful course.
Not only will you be learning how to set up campaigns correctly via AdWords for low cost lead generation, but you'll be ahead of others with high conversions from great landing pages.
Save Time & $$$ – See exactly how to set up landing pages and get access to FREE templates!
Destroy The Competition – Find out how you can split test easily to work your way to #1
Module #3: Updates & More
As part of our continuing high quality training we provide updates as needed to our training.
We'll be holding update webinars to let you know about even more information related to lead generation AND doing another LIVE case study!
Stay Up To Date – Most training is old by the time it launches . Not with us! You'll be getting even more great content AFTER launch is over!
Valuable Insight – Get access to the 2nd case study for even more tips and tricks that you can use in your own lead generation.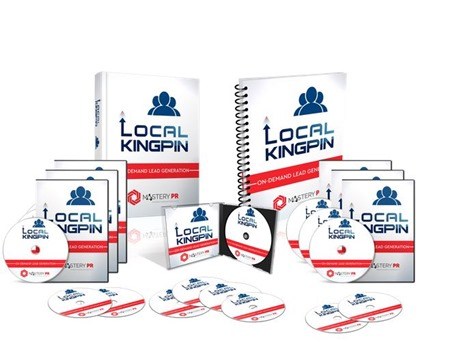 These Awesome Bonuses – Are YOURS!
Bonus #1: Update Webinars – Members Only!
We know that learning new skills, even amazing ones like lead generation on demand that can give you an amazing ROI, can be time consuming and you might have questions.
That's why we're going to deliver update webinars with even more great information so that you can make the most out of your new found lead generation skills after joining Local Kingpin.
These webinars are worth their weight in gold and won't be open to anyone but members of Local Kingpin!
Instant – Get access to the webinars when they happen – members only!
Important Learning Tool – Get important questions answered from the experts
And So Much More…
Bonus #2: Live Case Study
When you join Local Kingpin today, you're going to get instant access to a local case study. Sounds good, right?
How about we do another LIVE case study that you'll get access to as a member?
Seems like a good way to learn even more and gain additional tips and tricks that will let you get more clients and make more money from lead generation on demand…
So that's what we're going to do. You get access to our awesome live local case study for members only!
Members Only – As a Local Kingpin member you'll get insider access to the LIVE local case study
Important Reference Tool – Helpful for uncovering missed opportunities and ninja methods
And So Much More…
Bonus #3: Local Optin Funnel Template
Do you have your own highly converting opt in template that has been testing over time?
Most people don't!
And that's OK – we're going to give you an opt in template FOR FREE that you can use to drive conversions through the roof.
Some people hack together their own poorly designed and un-optimized opt in pages, or pay $1000's to get one made by an expert.
Join today and get yours – Free!
Instant – Get access to the template as soon as you join
Important Tool – Learn how to increase conversions by using this time tested template
And So Much More…
Course preview and screenshots
Bradley Benner – Local Kingpin Contains: Videos