Productize
Learn how to level up your business by building a productized service.
Break Free of Billable Hours.
Still freelancing and living project-to-project? Has your earning potential plateaued? Stuck wearing all the hats and doing everything yourself?
If you wish you'd never have to write a lengthy proposal again or take a client who doesn't value your work, then you're not alone.
In fact, every freelancer hits these challenges at some point in their career. Even raising your rates and chasing after bigger fish won't get you where you need to go.
Maybe it's time for a promotion.
But self-employed web workers like us don't have a boss we can butter up to give us that corner office with the higher salary. We're on our own.
So in order to truly level up in your career, and gain that freedom you've been chasing all these years, then you'll need to promote yourself.
OK… That all sounds great.
But right now, you're paying the bills with client work. The time you spend with your family occupies whatever free time you have left. How will you ever make it happen when the cards are stacked against you?
Take The Path of Least Resistance
You can gamble your late-night weekend hours on an unproven idea for an app. Or you can take the pragmatic approach to building a scalable business:
A productized service.
It's your best opportunity to level up. A productized service involves little risk, low barrier to entry, and a proven path to scalability. You're simply converting something you already do into a value-added service that can scale.
What is a Productized Service?
From your customer's perspective, a productized service offers a specialized "done for you" solution with a compelling value proposition, packaged at a set price and scope.
From the founder's perspective (that's you), a productized service is one that runs systematically, and continues to produce and grow with or without your direct involvement.
A productized service is your alternative to billing by the hour, and taking any and every project just to keep the lights on. It can be designed to let you focus solely on your craft (while cutting out the boring stuff). Or it can be streamlined, systemized, and automated to run itself, while you focus on the bigger picture.
But no matter where you take your productized service, you will finally earn your promotion from Freelancer to Business Owner. And with that promotion come these perks:
Scalability
Create a service model designed for growth. Earn more as your business grows.
Remove Yourself
Design systems and automation so your business can run without you.
Get Paid, Even on Days Off
Detach your work from your time. Create a business that produces on its own.
Build an Asset
Own a business that not only pays the bills, but grows in value.
Focus on the Big Picture
Work "on" your business, not "in" your business.
Steady, reliable income
End the feast and famine cycle for good. Grow your baseline income month after month.
How I Productized My Business
I'm Brian Casel. Here's the story of how I transitioned out of freelancing.
My product began as a SaaS web design service for restaurants. At first I thought customers would want a self-serve DIY tool, but I learned it's the "done for you" aspect that they truly value. That's when I faced a hard decision.
I could walk away from this startup because it became too reliant on manual work. Or, I could learn to systematize all of our processes, build my team, and continue to scale up. I chose the latter.
My little SaaS evolved into a Productized Service. But I designed it so that every aspect of runs completely without me. I can take a vacation with my family, and the business continues to produce. But most of my time is spent doing what any business owner does best: Focusing on the bigger picture.
Over the past year, I met lots of others who have stumbled upon the Productized Service path, and built amazing businesses. I'm so excited about this opportunity for freelancers. So I decided to teach this course, based on all the lessons I wish I could have learned sooner.
A comprehensive course to guide your way
Productize is your roadmap and skills training designed to guide your way to building a productized service and help you level up as a business owner.
Through a combination of HD video lessons, step-by-step workflows, processes that you can plug right into your business, and a supportive learning environment with business owners just like you, you'll have everything you need to successfully level up and build a thriving productized service business.
Course Lessons
CREATE
Working "on" your business

6:37

Find Your Why

6:59

WORKSHEET

Eliminate Discovery Meetings

6:07

Anatomy of a Productized Service

7:47

Find Your "One Thing"

8:46

WORKSHEET

Craft a Compelling Value Proposition

12:37

Pricing

16:01
AUTOMATE
The Path to Autopilot

12:32

Standardizing

6:49

Streamlining

7:07

Documenting Workflows

13:11

Structuring a Procedure

10:56

2 TEMPLATES

Delegating

11:32

WORKSHEET

The Hiring Process

22:51

2 TEMPLATES
MARKET
Marketing a Product

2:16

Know Your Customer

8:50

TEMPLATE & WORKSHEET

The 3-Step Sales Funnel

6:14

TEMPLATE

Building Traffic

10:58

Education-Based Marketing

7:08

Your Sales Page

8:49

Systematized Marketing

7:22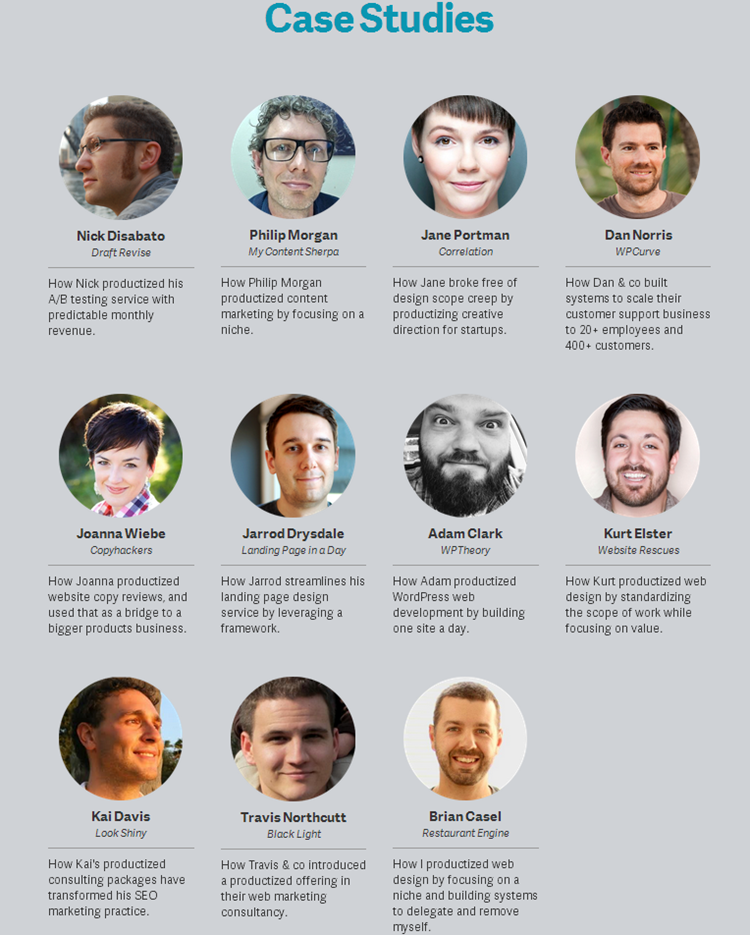 Productize
This package includes lifetime access to all of the course materials:

+ Over 20 lessons

+ Lessons in video, audio, and the text course book

+ 11 case study interviews

+ Worksheets and templates
Course preview and screenshots
Contains: Videos, Audios, PDF´s, Documents