What if you could create a memorable, professional brand for your business without paying thousands to hire a designer?
And, what's even cooler…
What if you created that brand yourself?
No more feeling STUCK every time you want to move forward with a new project or business idea. No more crossing your fingers that the right designer is available at the right time to take on your project.
With this course, I teach YOU to become the designer.
The Better Branding Course is a self-paced, online video course that will give you the freedom to bring your ideas to life. I'm going to teach you my unique process for uncovering your brand story, turning that into a strong brand concept, and finally, translating that concept into beautiful visuals that authentically convey the right tone for your brand.
I want to help you build a business that supports the life you dream of. And beautiful, authentic branding is your ticket to that. Let's get started, shall we?
What Tools Will I Need?
In an effort to make this course as accessible as possible, I developed the content so that anyone could take advantage of it, regardless of their access or knowledge of design programs like Photoshop.
I go through each step of the creation process using not only Photoshop, but also free tools like Canva, Google Slides, and Google Drawings as well. As long as you have access to ONE of the following, you can take full advantage of this course!

What's Covered In The Course?
The course is separated into four main modules of content, each with a number of individual lessons.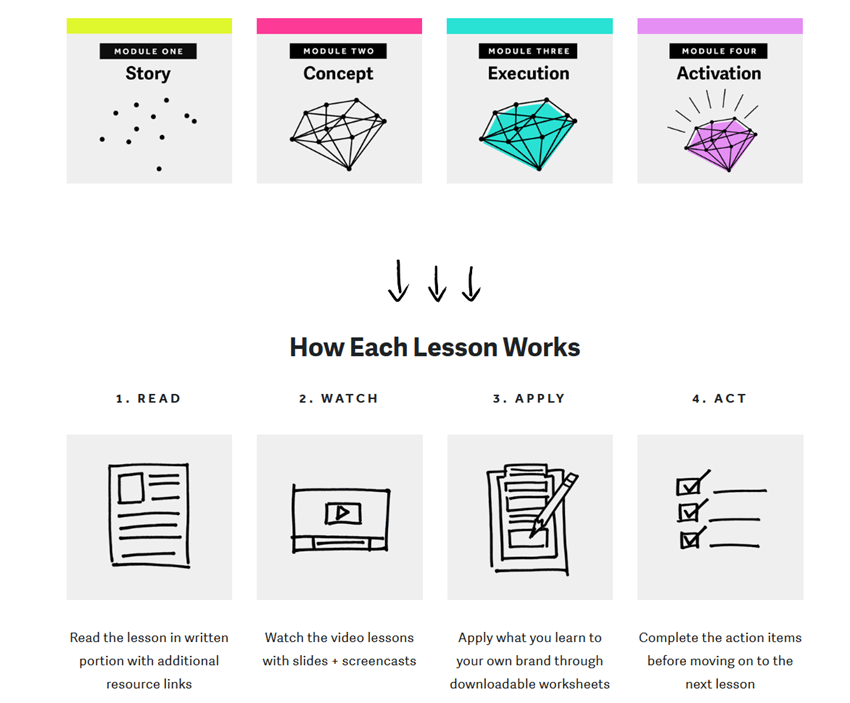 What exactly do we cover together?
Introduction
What you can expect from this course
Lesson 0.1 – Welcome!
Some background on my story and why I created the course
Lesson 0.2 – About The Course
What you can expect, and how to take full advantage of all the course has to offer
Lesson 0.3 – The Power of Branding
Why authentic branding matters and how it can affect your business, plus what exactly we'll create togther throughout the course
Module 1: Story
Uncovering what makes you one-of-a-kind
Lesson 1.1 – Intro To Brand Story
What the heck is a brand story and how do you find yours
Lesson 1.2 – Owning Your Origin Story
What led you to create your business and what parts of your past can help make you stand out
Lesson 1.3 – Clarifying Your Business Foundation
Getting clear on the who, the what, the how and the WHY of your business so that your branding is in line with your business fundamentals
Lesson 1.4 – Defining Your Brand Beliefs & Values
How to figure out what your brand stands for and what it cares about
Module 2: Concept
Translating your unique story into a concise brand foundation
Lesson 2.1 – Intro To Brand Concept
Why it's important to have a strong conceptual basis before you develop visuals for your brand
Lesson 2.2 – Developing Your Brand Canvas
Pulling together the various elements of your brand story and turning it into a strong brand perception
Lesson 2.3 – Establishing Your Tone Words
Selecting the five words that will become the basis of your brand
Lesson 2.4 – Building A Visual Vocabulary
Understanding how tone words translate to visual design elements
Lesson 2.5 – Creating A Mood Board
How to pull together the right inspiration images to set a powerful aesthetic as a jumping off point for your visual identity
Module 3: Execution
Translating your concept into a visual Brand Identity
Lesson 3.1 – Intro To Brand Execution
What elements make up a Brand Identity and how can you begin to create your brand system
Lesson 3.2 – Typography
Understanding what gives typefaces their personality, how to pick the right ones for your brand, and when/how to use typefaces throughout your branding
Lesson 3.3 – Color
How many colors do you need for your brand and how to develop a palette that is versatile and authentic to you
Lesson 3.4 – Graphic Elements
Illustrations, icons, graphic shapes – they all can pull your entire brand together into something that is unique and cohesive
Lesson 3.5 – Logos
Once we have the basic parts of your brand, beginning to build a logo becomes much easier! Logo best practices and variations you'll need
Lesson 3.6 – Photography
Where to look for great photos and how to develop a consistent aesthetic for blog posts images, web design and social media
Lesson 3.7 – Creating Your Brand Board
Pulling it all together in a Brand Board so you can see how your brand elements work together and balance each other
Module 4: Activation
Implementing your new brand system into a website design you're proud to show off (using Squarespace)
Lesson 4.1 – Intro To Brand Activation
Fantastic branding is only helpful to your business if you USE IT! __
Lesson 4.2 – Getting Acquainted With Squarespace
A walkthrough of the Squarespace dashboard and basic functionality
Lesson 4.3 – Website Structure
Creation of a site map so that you can start to organize your website content
Lesson 4.4 – Page Layouts
How to structure content on your page so that it's interesting and digestible to your website visitors
Lesson 4.5 – Branding Your Home Page
How to integrate your brand elements into your home page design
Lesson 4.6 – Branding Your Social Media Presence
Creating banners and profile images that carry your brand seamlessly through to your social profiles
Lesson 4.7 – Launching Your Brand!
A launch plan to build excitement and buzz around your newly updated brand!
Course preview and screenshots
Caroline Winegeart – Better Branding Course Contains: Videos, PDF´s