Building An Affiliate SEO Business
"The Best Affiliate & Money Hat SEO Course Ever Created"
Before we get into the rest of this text, I just wanted to make it abundantly clear that though this page is a sales page for this course… It goes from trying to sell you something, to telling you a rather long, detailed story very quickly.
Learn How I Build Affiliate Sites That Make Me Over $30,000 Per Month PROFIT
I know, you've heard it all before… People saying they make $xx,xxx a month with "this one simple hack" or "4 hours work a week" but it's bullshit.
I work from home, I work upwards of 50 hours a week, and it took me MONTHS of hard work to get to where I am – It's going to take you a lot of hard work to get there too… but once you get there, you'll have real freedom.
This course is for those with real work ethic – The people who don't want to have a boss, the people who want to be able to go on vacation 12 times a year, but will work from the beach.
That's enough about the mindset you'll need for this course… Let's get into what's actually inside.
What Will I Get Out Of This Course?
I've developed a 6 stage course that'll help you go from start to finish with building an affiliate site, ranking it, growing it, making bank and eventually selling the site for upwards of 6 figures – All backed up with real sites making real money.
But If You're Making So Much Money, Why Would You Do A Course?
It's quite simple really, it's good business – If you can make a 5 figure a month income with 15 hours a week work, then it makes sense to use the other 35 hours of work-time a week to make even more, and if you can grow a community, make some money and network with great people… It's completely worth it.
Believe it or not, my affiliate empire didn't prop up over night, and I was once working my ass off in a 9 to 5 agency job building someone else's client base with little reward for yourself… I decided to give up on what was a lot of security, to chase a wild dream of building out sites to passively fund a better lifestyle – I would of made that decision in a heart beat if I knew I had a solid plan and someone to follow who'd already done it.
Still Not Convinced? Here's EXACTLY What Buying A Membership Gets You:
The Full Course. A Step-by-Step Plan to building your own affiliate empire, with a huge amount of detail, hours of videos, walls of information and weekly updates, with a full development log so you can see what's changed.
The Private Facebook Mastermind. A dedicated community of Super Affiliates, Beginners, Members, Full Time SEOs. All discussing the course, joint ventures, affiliate offers and more.
LIVE, Updated Case Studies. Showcasing sites that make 4 and 5 figures per month, from how we built them to how they rank, you'll get all the info in real time. As well as live case studies of brand new sites.
5 EPIC Bonuses. BOTH of my eBooks, A 6,800 word beginners guide to making Adsense sites, an up-to-date "SEO Vendors" list with the vendors I use on my sites and a guide to getting long-term backlinks from Reddit.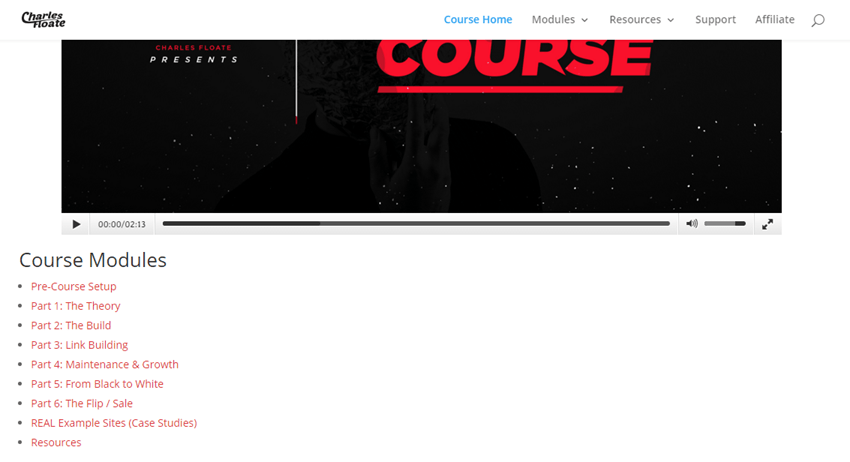 Course preview and screenshots
Charles Floate – Building An Affiliate SEO Business Contains: Videos, PDF´s