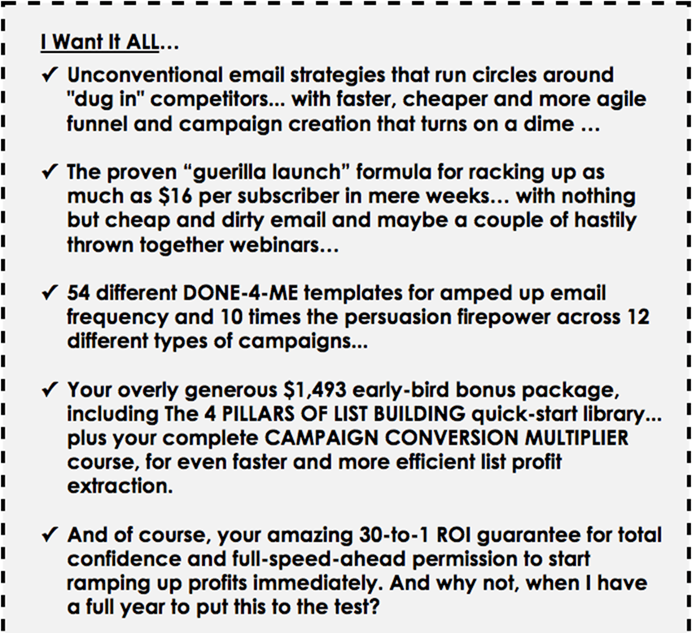 It's crucial you know these are NOT the typical 2-paragraph guru tripe templates you see being peddled around the Internet these days for thousands of dollars.
Every one of these templates is a hand-crafted jewel of ethical influence… incorporating the revolutionary EMAIL ALCHEMY "secondary reward" technology… every bit as good as the world-class persuasion my private clients pay me as much as $2,500 per email to write.
The campaigns are modular, designed to be stacked, combined, assembled and re-assembled into literally dozens of sustained "guerilla launch" onslaughts that drive off-the-charts conversions and earnings per click, striking fear in the hearts of complacent rivals who cling to the status quo.
As Steve Jobs is famous for saying:
"It´s More Fun To Be a Pirate
Than To Join The Navy…"
And far more profitable, too…
…Because EMAIL ALCHEMY "ELITE" totally levels the playing field against deep-pocketed and better established players, video marketing ninjas, the JV syndicate, anyone who wants to rumble… even stacks the deck in your favor.
Over the next 8 weeks I will personally "template" 12 DONE-4-YOU EMAIL ALCHEMY campaigns for everyone who joins this program – 54 sizzling HOT fill-in-the-blanks EMAIL ALCHEMY emails in all, for handling your complete subscriber life-cycle, from cradle to grave.
"These Are The Battle-Tested Revenue Boosters That Can
Catapult You To Supremacy In A Tiny Fraction Of The
Time (And Expense) It Takes Withc Conventional Means:"
Recruitment Series – emails for joint venture partner sorties and outright assaults. Instant "swipes" for filling up webinars, live stream events and hangouts… for multi-part video based sales funnels… for text based reports and audio content or anywhere else you need rapid recruitment of eager potential buyers.
Infiltration Series – emails that befriend new prospects, setting the stage for the invasion of new markets and the conquest of entrenched players… essential tools for getting "white-listed" in the in-box and pre-framing your offerings before launching an attack…
Propagation Series – emails that drive rabid consumption, discussion and sharing of your lead generation magnets. No more wasting your time creating pre-selling content for freebie seekers who don't even look at it. No wonder they don't buy!
Liaison Series – emails used to create a living narrative with the natives… fuels precious "list dialog" and goodwill… yields off-the-charts subscriber engagement, involvement and response…
Ultimatum Series – emails that demand action, or else! The "zero collateral damage" approach to scarcity and urgency. Destroys purchase inertia. Disarms people who abhor "scorched earth" takeaway selling. Keeps them buying happily again and again…
Enforcer Series – emails for maximizing webinar attendance. Every person who shows up at a webinar is worth $2, $5, $10, $20 or more to you, so this campaign alone could easily double your sales and profits!
Reconnaissance Series – intelligence-gathering emails for ensuring your next campaign is even more profitable than your last. How to figure out what to sell next… ferreting out unforeseen objections… discovering strategic product or service enhancements…
Anticipation Series – foreshadowing emails for priming your list for impending liberation from pain and sorrow… sowing the seeds of hope, expectation, and future gain, positioning you as their saviour…
Social Influence Series – emails that train buyers to give story-driven, results-based, objection-crushing testimony… eye-witness accounts of your awesomeness on clockwork auto-pilot…
Stick Series – emails that neutralize buyer remorse and consumption resistance, so you can slash refund rates and solidify trial orders…
Resurrection Series – emails for reviving dead contacts or purging them from your list before they drag down your sender reputation and slaughter your deliverability…
Plus a special 3-part series for generating pre-sold, pre-qualified service business inquiries and 7 sizzling hot templates for driving traffic to Clickbank top sellers.
Obviously, I'm taking a huge load off your shoulders, saving you thousands of man hours, accelerating your revenues immensely.
Plus…
You also get the full background and strategy behind the creation of this entire armory of DONE-4-YOU templates.
I'll guide you step-by-step in 4 additional 2-hour EMAIL ALCHEMY case-study trainings… where you can MASTER my unusual conversion principles and persuasion formulas.
I'll GIVE you the strategies and battle plans you need to ruthlessly catalogue all of the advantages and benefits that sell your products and services.
You'll WATCH me train several entrepreneurs… as they use these tools to transform my fill-in-the-blanks templates into breathtakingly original, high-converting emails in real time right before your eyes. Nothing is more powerful for skill acceleration than watching, hearing, seeing… then doing.
So you KNOW exactly how to adapt them in the field and on-the fly… to the unique needs of your own business. (NOTE: Your license to use these emails does not extend to third parties. They are for selling your own products or services or as an affiliate only)…
Plus You´ll Have My Entire Legacy EMAIL ALCHEMY
Track I Training For Deploying Devastatingly Effective
"Guerilla Launch" Campaigns – Entirely From Scratch…
You'll have the biweekly BONUS BUNDLE of targeted, skill-strengthening exercises; the copywriting checklists; my secret lists of IDIOMS, METAPHORS, and SIMILES… to make your E-MAILS SIZZLE… and GET your customers to DEVOUR them!
You're getting my indispensable "Email Starter and Campaign Planner" worksheets for mapping out series structure and creating brilliant "from-scratch" EMAIL ALCHEMY emails and campaigns that sell like hell…
You'll have my "Story Scene Beat Sheet" for creating an emotionally satisfying roller coaster ride through every high-converting, can-not-be-ignored EMAIL ALCHEMY series you create…
You'll have my "Testimonial and Case Study Dynamite Report" (previously sold for $1,500) for pulling out amazing story-based testimonials that prove the superiority of your product or service beyond a shadow of a doubt…
I'll even give you a partner and my "Hot Hook-Extracting Checklist," so together with your fellow "Alchemists," you can discover the hidden hot buttons, "hooks," and most persuasive stories that exist right NOW in YOUR OWN business!
By now, you're beginning to "get it" …
EMAIL ALCHEMY "ELITE" and this extensive array of guerilla launch templates, tactics and toolsets is THE missing piece you need to monetize your list in the most hotly contended markets…
Realize this:
The Massive Arsenal Of 54 DONE-4-You Emails
Alone WOuld Cost Well Over $50,000
If I Were To Write Them For You From Scratch
We're talking 12 strategic lead and sales generating campaigns covering the complete subscriber life-cycle… capable of forming the entire fabric of your marketing… leveling the playing field against even the stiffest competition…
My private clients gladly pay me that $50,000+ to custom create campaigns like this because these emails are proven to produce ten times the King's Ransom you're saving with this one-of-a-kind package …
…The quality, persuasive power and adaptability of these emails and campaigns make them the ultimate customer acquisition strike force!
Of course, I'm not going to flesh out the templates for you, I'm not going to custom create emails for you. And I have no idea of your work ethic or your level of commitment to adapting them… or even if you'll do anything with your investment.
But even if we dial this back by a whopping 80%… it's still a $10,000 value. Remember, we're talking 54 emails here, covering the entire subscriber life-cycle. Heck, even a hack copywriter would charge you more than that…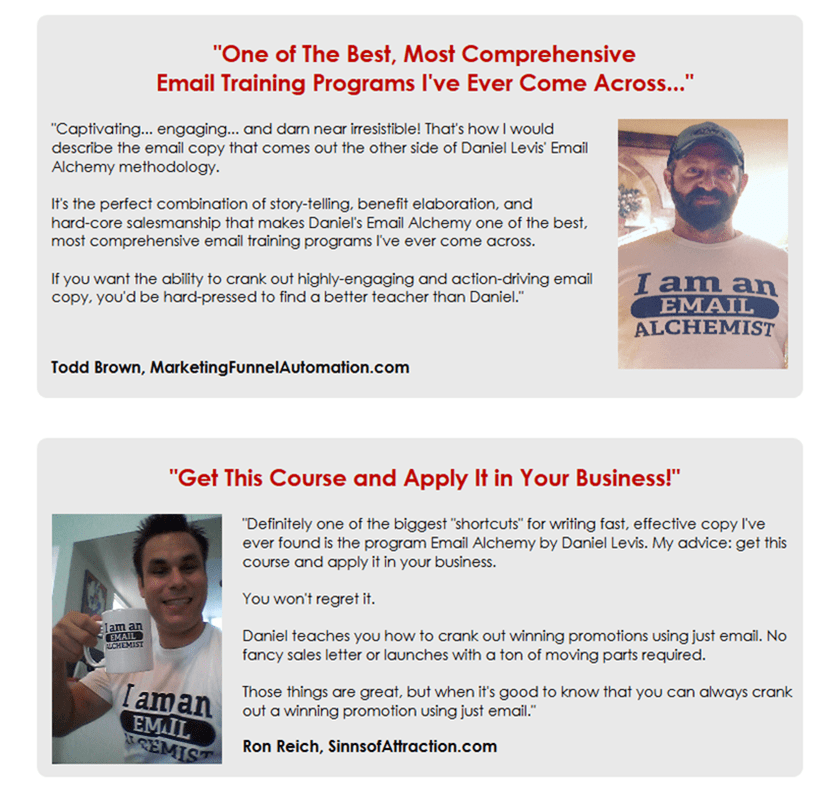 Course preview and screenshots
Daniel Levis – Email Alchemy Elite Contains: Videos, PDF´s, Audios
Price: $18
Original Sales Price: $2997