"How To Build Cash-Cow Mobile Websites In 7 Minutes Flat?"
"No Previous Experience Or
Technical Knowledge Required!
This Software Will Allow You To Close More Sales Almost Overnight!"
My name is David Cisneros, and I am an offline marketer and software developer.
I don't want to hit you with a bunch of hypey sales copy about why you should purchase this mobile template software package.
BUT……..
I highly suggest you take a few minutes to review the rest of this page.
WHY?
Because I am going to show you how you can use this Simple Mobile Website Template software to become an EXPERT in your local area and make money over and over!
How is that possible?
Because this mobile website template software package will help you create full mobile website templates in minutes, as well as position YOUR business to be the EXPERT when it comes to mobile marketing.
And……..
Gives you the ability to PROFIT again, and again, and again!
Pretty BOLD Statement Right?
So what makes my new software so special?
Simple.
It QUICKLY and EASILY helps you to build top of the line mobile landing pages that are in great demand by the marketplace.
Every site you build will feature the latest mobile coding technologies, just like the "Big Boys" do it.
The only difference is…..you won't need to pay a small fortune to hire a coder, nor will you need to learn to code yourself. (Very Newbie Friendly)
Instead, you will simply fire up the software and crank out Professional quality mobile sites built using:
HTML5
CSS3
and jQuery Mobile
This type of code is the latest, most stable available today.
How do I know?
Look at all the big companies that are using the EXACT same technology…..
Disney
IKEA
Dodge
Rolex
Century 21

So why are these superstar companies using this technology?
Because it builds great looking, feature rich, mobile sites that are as cross browser friendly as possible.
It also produces a fully responsive layout that looks great on just about any device that can access the internet…..making its value skyrocket!
Heck, if the "Big Boys" like Disney, IKEA, Rolex, and Dodge are using them, then that is what I wanted to replicate.
So I put my programmer to work on building the top of the line full mobile website template and this is what he created for me:
Check out These Template Features…..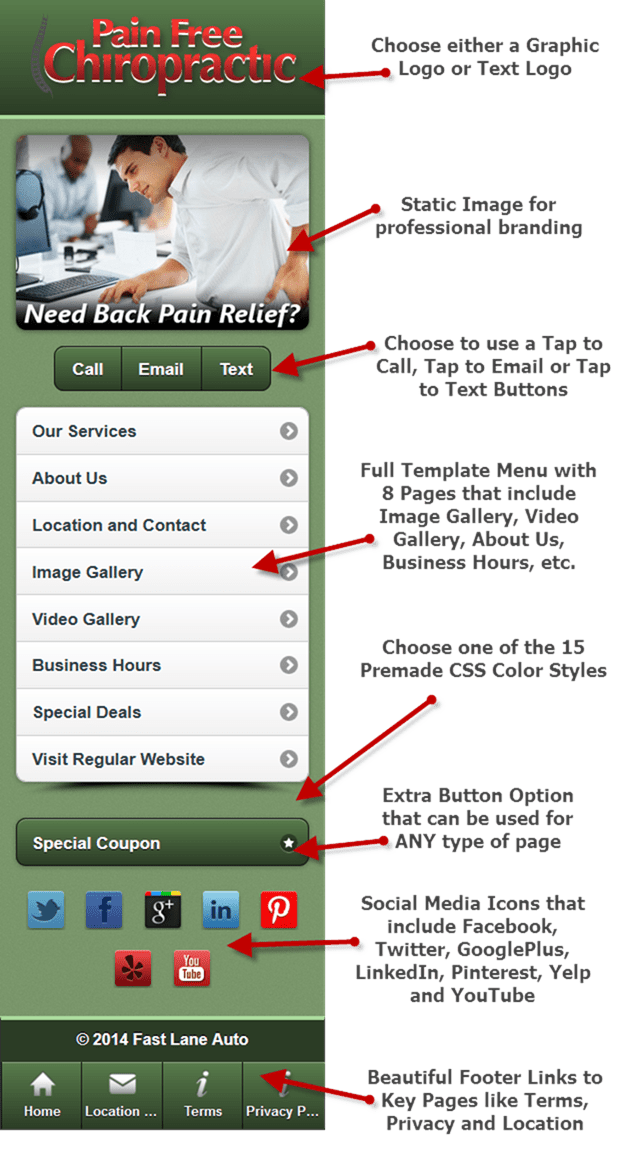 We Made it Super Easy This Time!
How?
The answer my friend is software.
I created a custom piece of Windows based software that holds you by the hand and walks you through every step of the building process. If you can fill out a form on a website, YOU can build beautiful mobile templates that any business owner will be impressed with.
All you need to do is load up the software, click the button on the dashboard for the static image template, build your template, and upload to your server.
Yes, It's Really That Simple!
Introducing the MSM Elite Mobile Software Tool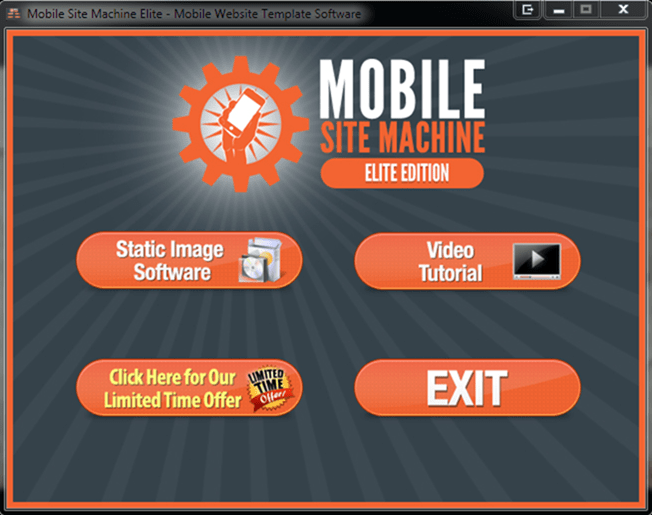 With Our Full Mobile Website Software……
1) You No longer do you need to look at any HTML to edit your templates
2) You No longer will you spend hours creating a template. You will be building complete mobile websites in no time.
3) You No longer are you stuck with one type of template. You will have 15 built in color variations that are ready to rock and roll.
We Couldn't Have Made It Any Easier For You!
Still Not Convinced You Need This?
Here are a few reasons why adding this tool to your mobile tool belt will give you some great advantages to making money.
Advantages like…..
Gives you the ability to create a Full Mobile Website Template for ANY Offline Niche.
The ability to offer a great looking…..feature rich, in-demand "product" built with the latest technologies! (Mobile sites are HOT and business owners know their customers are going mobile!)
Point and Click! (Forget the need to learn complicated code….my MSM Elite Software makes building each site super simple and easy!)
Speed! (Each site takes just minutes to make…..no longer will you need to take hours to fulfill your mobile service.
That, in a nutshell, is what the MSM Elite Software is all about.
Front End:
– MSM Elite Edition Mobile Website Template Software
– 28 Offline Niche Image Pack
– Access to Mobile Marketing Graphics Tool
OTO #1: Premium Software and Lead Gen Package
On the back end we have an even better solution for Mobile Website template design. The OTO is our Premium software that includes the ability to create a mobile template with Carousel Slider, and also a YouTube Version.
It also includes a Menu Page, and the ability to use Custom Colors.
We also have included a Lead Gen Software builder, PLR Reports, Autoresponder sequences, and custom mobile videos.
– MSM Premium Software that will create a Carousel Slider template and also a YouTube Video Template
– Premium software includes 25 ready made CSS files, and also the ability to use custom colors
– Lead Gen Software that will help create the front end lead gen templates in minutes.
– Custom Lead Gen Video Animated Style. This is a brand new custom video that goes perfect with the front end Lead Gen System.
– PLR Reports to use as a lead magnet.
OTO #2 Portfolio and Resource Pack
– MSM Elite Portfolio Software: Build a complete portfolio in minutes with this easy to use software.
– 20 site full demo pack: Already built demos, ready to upload to your server
– PowerPoint Presentation
– Business Cards
– Flyers
– Sales Letters
and much, much more…..
Course preview and screenshots
SalesPage (more info), OTO1, OTO2
David Cisneros – Mobile Site Machine Contains: SW, Videos, Graphics, Templates….