Design Doesn't Have to Be Mysterious
Uncover the visual tools at work everywhere so you can decipher then create beautiful design
Face it: the old "Frankendesign" approach isn't working
We've all been there: you're staring at a blank canvas, and suddenly everything is still. You can't make a single move.
Meanwhile, visions of perfection float in your head, darting in and out of your consciousness. You can't seem to grab them before they slip away. Even if you could, you fear you couldn't make them reality.
Time is passing, and with it, you're missing out on all of the other things you could be doing. You could be delivering your customers real value, but you can't even seem to get started. Every moment that passes is money down the drain.
So, you do what every other person in your position does: you "steal." You scour the library of screenshots and links from your "inspiration" vault, trying to find something that brings that vision back to your head. You download Bootstrap once again, and try to make your idea come to life.
And a new Frankendesign is born: a mishmash of a framework, stock icons, and fonts you picked seemingly at random, but that help make that Bootstrap look less "Bootstrap-ish."
It might get you by, but it falls way short of your vision. You've put so much passion and energy into your product. It doesn't feel right to put its soul into a body that's so lifeless.
When you understand great design, you don't have to "fiddle"
All of this wouldn't be so frustrating if it just didn't matter. If only design were just pretty decorations there just for the amusement of their maker.
These days, design is more important than ever for getting taken seriously. Look at any popular app you use day-to-day: from Facebook, to Twitter, and now even Google. The bar has been raised higher than ever. Good design is no longer a "nice-to-have." Good design is a must.
To make things even more challenging, production timelines have gotten tighter and tighter. Teams are moving forward faster than ever, with disciplines like design and development converging on tasks like never before. You need design to contribute in today's world – not only to stand out, but to even stay relevant.
Bad design destroys credibility
How has design managed to become such a critical skill in today's world? It may seem as if design somehow creates value out of thin air.
It turns out, that's pretty much what good design does. It gives you instant credibility.
In a pioneering study, B.J. Fogg – who started Stanford University's "Persuasive Technology" Lab on Stanford's always-sunny, sequoia-tree-lined campus, discovered that design is the most important factor customers use in determining the credibility of websites. Participants in the study reviewed websites, and commented on whether they found them to be credible or not.
Over 46% of all comments about whether someone trusted a site or not were about the visual design of the site.
People said sites they trusted were "more professional-looking," or that they "just looked more credible."
You don't have to have a degree to design
I'm David Kadavy, the guy behind this design course. I've been a part of this seemingly secret society of designers. I got my degree in Graphic Design, and I even won super-prestigious fancy-pants international awards for my work.
After systematically honing my design skills to deliver in the fast-paced grinders that are Silicon Valley startups, I decided to "open source" visual design. So, I wrote a book called Design for Hackers to break down the fundamentals of good design.
---
Finally, developers and programmers had a way to think about design that made sense for their brains. They were so hungry for this knowledge, D4H debuted in the top 20 on all of Amazon. My puny little "hacker" book was outselling Dick Cheney!
The readers I've talked to have learned how to design better, faster, and with more confidence in their decisions. I've talked to whole teams, in fact, who have stopped burning everyone's time arguing arbitrarily in design meetings. They finally have a common vocabulary with which to make decisions and move on!
---
The one complaint I've heard over and over again from my readers, though, is that they struggle with having the time and the motivation to actually face design head-on and add that coveted "design pro" arrow to their quivers, once and for all.
You'll learn design in easy-to-digest videos like this one on Visual Hierarchy.
Lite Package The Design for Hackers approach to design, condensed into 20 information-packed lectures
---
Whether you fear the blank canvas, or cringe whenever you get client feedback, the solution is to know your stuff when it comes to design.
D4H Video Lite arms you with an understanding of every little piece that comes together to make great design. Stop the guesswork, and start the know-work.
---
Design isn't just for "creatives"
Many people (even designers) believe the myth that visual design is only for "visual thinkers," "creatives," or artists. The truth is, just like programming, math, and language, great design is simply a combination of key parts. Once you break down and understand these elements, you can put them together in a way that makes sense.
You don't need a 4-year degree or a 300-page textbook to decipher and create beautiful design. Just learning the essential, actionable elements of design will transform how you view everything you see around you. Plus, you'll know exactly where to start when staring down a looming project.
---
D4H Video is specifically designed to make the most of your precious time. I've condensed the concepts from Design for Hackersdown to the essentials. Learn the most important elements of the D4H approach in videos that are around 5 minutes apiece, packed with up-to-date examples.
The core of the course is the Lite Package, which breaks down every little factor that comes together to create great design. The course is divided up into three modules and 20 lectures, to help you focus on each of those pieces one at a time.
To maximize your learning, I recommend the Motivation Overdrive package, which has everything you get in the Lite Package, but comes with challenges, and community access to really get these concepts programmed into your brain.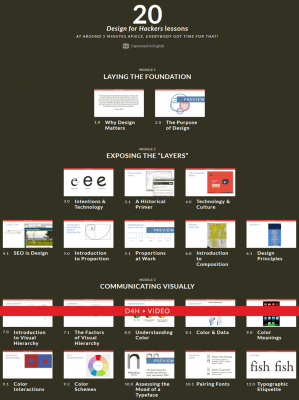 Course preview and screenshots
David Kadavy – Design for Hackers: Videos
Download links are hidden! Click bellow to get the VIP membership or login.