The Best Step by Step System To Starting Successful Affiliate & Authority Sites
.
Take a Sneak Peak Inside The Course
The Following Modules Are Included in The Authority Site System:
THE BASICS OF ONLINE MARKEING
In this module, Perrin will catch you up on the basic mechanics website owners use to generate traffic and revenue with their sites. If you are a complete beginner, this module will catch you up with all the different business models, traffic sources, monetisation tactics and more. This makes The Authority Site System a perfect starting point for beginners.
NICHE & KEYWORD RESEARCH
In this module, we will focus on doing all the planning for your upcoming website. We will first focus on niche and market and niche research, giving you a full proof step by step process to find the best possible niche for your site.
We will then show you how to do keyword research and plan your site from start to finish.
BUILDING THE SITE & OPTIMISING IT
Once the planning is done, we will be setting your site up in the most optimal way possible. In this module we will show you how to build the fundamental structure necessary for the SEO success of your site. From plugins, to themes to branding to advanced silo structure deployment.
COMMERCIAL CONTENT CREATIN & OPTIMISATION
After your site has been setup, it is time to start building a content process and focus on achieving a return on investment. This module will talk about planning, creating and outsourcing monetised content, both from an editorial and conversion optimisation standpoint.
INFO CONTENT & LINK BUILDING
Following the creation of your commercial content, it is now time to add a marketing layer to your site to boost it's reach and allow the commercial content created in the previous module to gain momentum and generate revenue. In this module we will talk about pillar content, link building outreach and many more tactics that will give your site visibility.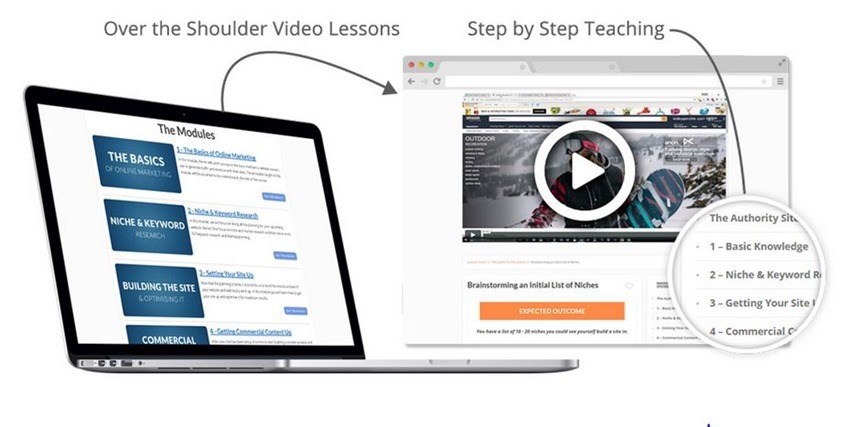 Course preview and screenshots
Gael Breton, Perrin Carrell – The Authority Site System Contains: Videos, PDF´s, Images, TXT