Are You Frustrated With The Slow Growth Of Your Online Businesses?
Learn How To Build 6, 7 or even 8 figure websites with us.

Building Profitable Websites is HARD
Building great sites is complicated.
Even more so when you want them to be profitable.
There are so many moving parts involved when it comes to building great sites : social media, SEO, content creation, E-mail marketing, product creation, sales, technical setup and the list goes on.
You can easily get overwhelmed by the diversity of the tasks and as a result, settle for a mediocre website. You then end up making pennies online, far from our white sand beach passive income day dreams.
Actually most people attempting the whole passive income thing are still stuck in their day job or doing consulting gigs for clients they do not really enjoy working with. But hey, it pays the bills.
Sounds familiar?
We've been there for over 3 years until we decided to fix this issue…
Have you ever asked yourself these questions:
How do I craft content that doesn't suck on a limited budget?
How can I transform that content marketing stuff into actual people visiting my site?
What is the best way to transform my traffic into earnings?
Should I focus on my email list next? Or create my first product? Or produce more content? I am lost!
How do I sell to my audience without looking like a sleazy 2nd hand car salesman?
We have. Many times.
And we have grinded to find the answer to all these questions through trial and error, wasted weeks, months, thousands of dollars and gallons of sweat (yuk).
But you won't have to.
Authority Hacker is constantly working on collecting the answer to those questions from the best minds in the industry and combines them all under one roof into digestible implementation tracks for its pro members.
But What is Authority Hacker Pro? Glad You Asked…
Authority Hacker Pro is an advanced exclusive "club" for serious website owners composed of 3 main parts, each of them designed to address a specific challenge our members are facing.
Learn – Inside the authority Hacker pro membership, you will find all our authority site creation processes documented with extreme detail along with templates for you to implement those swiftly to your own sites.
Get Feedback – Every 2 weeks, we run feedback and Q&A webinars where we put you on the hot seat and give you live feedback on your implementation of the techniques we teach inside the Authority Hacker Pro membership.
Join the community – The Authority Hacker pro membership hosts a fast growing network of entrepreneurs, bloggers, SEO's, designers etc that help each other out. If you have a question, a struggle or just need an opinion, the community is here to help you out.
Let's look in detail into each of these 3 components…
Grow Your Site Faster With Our Advanced Marketing Blueprints
Have you ever bought online marketing education promising you that you were going to earn $57,643 in just 14 days and anyone can do it from the comfort of their homes?
Of course you have.
The issue is, most of the time the tactics you learn from there are:
Outdated
Scammy
Not actionable (tons of fluff, very little how to training)
We wanted to do something different.
We want our members to be able to pick a desired outcome like:
Getting more email subscribers
Grow search traffic
Increase social media reach
And simply follow step by step instructions from "this is what I want" to "done".
Something that actually shows us building pages, posts, ads, links, emails live over the shoulder so our members could just press play and follow us click by click instead of hiding behind boring powerpoint presentations like most other online teachers.
That is why we created marketing blueprints:
Constantly Updated
Premade Templates
Goal Oriented
Field Tested
Blueprints are highly detailed, repeatable, step by step growth and monetisation tutorials for online businesses.
Blueprints have a specific goal in mind and a specific number of steps associated. Each step is documented in both video and written format.
Some of the blueprint topics already live include:
Creating High Value & High Converting Lead Magnets in under 15 minutes
Scaling link building outreach and getting more than links from it
Setting up and promoting a viral contest for leads and profit
How to use inexpensive retargeting to get more email subscribers and leads
How to go from $0 to $1,000/month with affiliate and email marketing.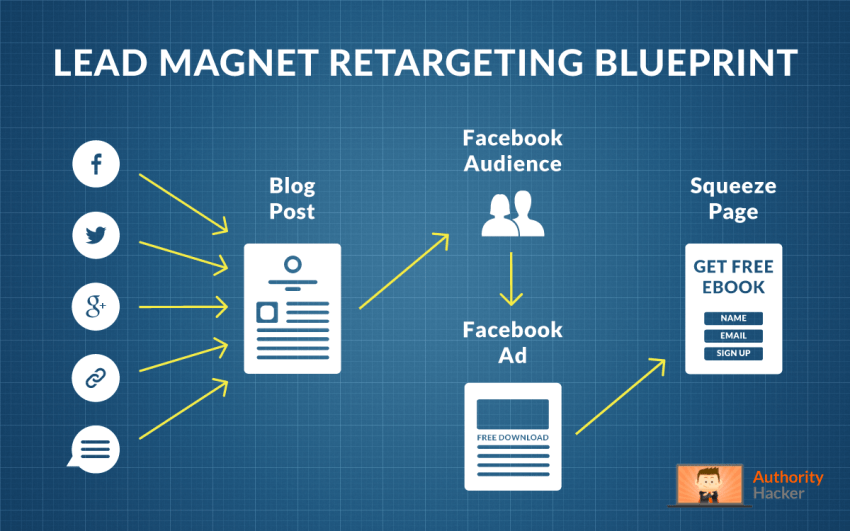 So What Exactly Do You Get Inside The Member Area?
All our "Process Blueprints"
Our process blueprints are step by step instructions for advanced tactics such as link building outreach, lead collection, content creation, member area setup and more.
These blueprints are so detailed that you can literally follow along as we do it and have the process completely executed by the end of the videos. You can also use it as training area for your team. New blueprints are added monthly.
All our Live Webinars & Recordings
Every 2 weeks we jump on live webinars with you guys to show you what we are working on right now that has not yet been documented in blueprints and also to answer your direct questions.
This is the best place to talk to us directly and jump on a hot seat session to get feedback on YOUR site. If you can't make them we'll take questions in advance and post the replays online so you can get feedback even if you can't make it.
Course preview and screenshots
Gael Breton & Mark Webster – Authority Hacker Contains: Videos, PDF´s