Netpreneur Summit
Internet Business, Marketing & Networking Event
A Weekend With The Sharpest Minds In Online Business & Marketing… A Lifetime Of Returns!
The Netpreneur Summit is an Internet Business, Marketing & Networking Event covering various strategies and methods the world's top marketers are using right now to make a fortune from anywhere in the world using as little as a laptop and internet connection.
The 2015 Netpreneur Summit promises to be AGAIN an event like no other for Internet Business & Marketing enthusiasts. Our strict focus is on delivering high value, jam packed content sessions without any of the normal fluff or endless sales pitches..
Our Objectives
1) To Help YOU learn in a friendly, hyper-productive environment!
2) Share with YOU the latest strategies, ideas & plans of what's working NOW!
3) Connect YOU with like-minded Internet Business & Marketing superstars!
4) The Netpreneur Summit Is All About ONE Thing – Helping YOU!
Who Is This Summit For?
Anybody who is genuinely interested in discovering more actionable, results orientated Internet Business & Marketing strategies they can use to either start an online business or grow their current one 10X faster!
Devour The Most Current & Hottest Competition-Crushing Marketing Techniques & See Increased Profits Like Never Before
How would you like to discover the most up-to-date marketing techniques that you can apply for amazing and quick results in your business? Real-life case studies delivered by super successful Netpreneur's who are in the field getting results right now… Your competitors won't stand a chance!
The Netpreneur Summit is designed specifically to deliver you a mountain of benefits that can implement for instant results. Here are just some of the reasons to attend and what you'll walk away with….
Cutting-Edge Profit Boosting Strategies
Discover what's working now in online direct marketing
Business & Marketing Growth Strategies
Facebook & Twitter Marketing
Joint Ventures & Strategic Alliances
Mass Media Buying (online & offline)
Lastest Affiliate Marketing Strategies
Email Marketing
Hidden Marketing Assets
Expand Your Network – Make Friends With Some Of The Top Marketers In The World
Ask any successful marketer or business owner and they'll tell you a massive part of their success is due to their network of friends. We can't stress enough the huge benefits of attending live events. You will meet other like-minded, motivated entrepreneurs to share stories, energy and insider-secrets with. The real value of your network is priceless.
If you've ever attended a high-caliber event like this before, you'll know exactly what I'm talking about. How many new ideas, new friends and how much new-found energy will you be taking home with you? How much will the new friendships you make at Netpreneur Summit 2014 add to your bottom line in 2015?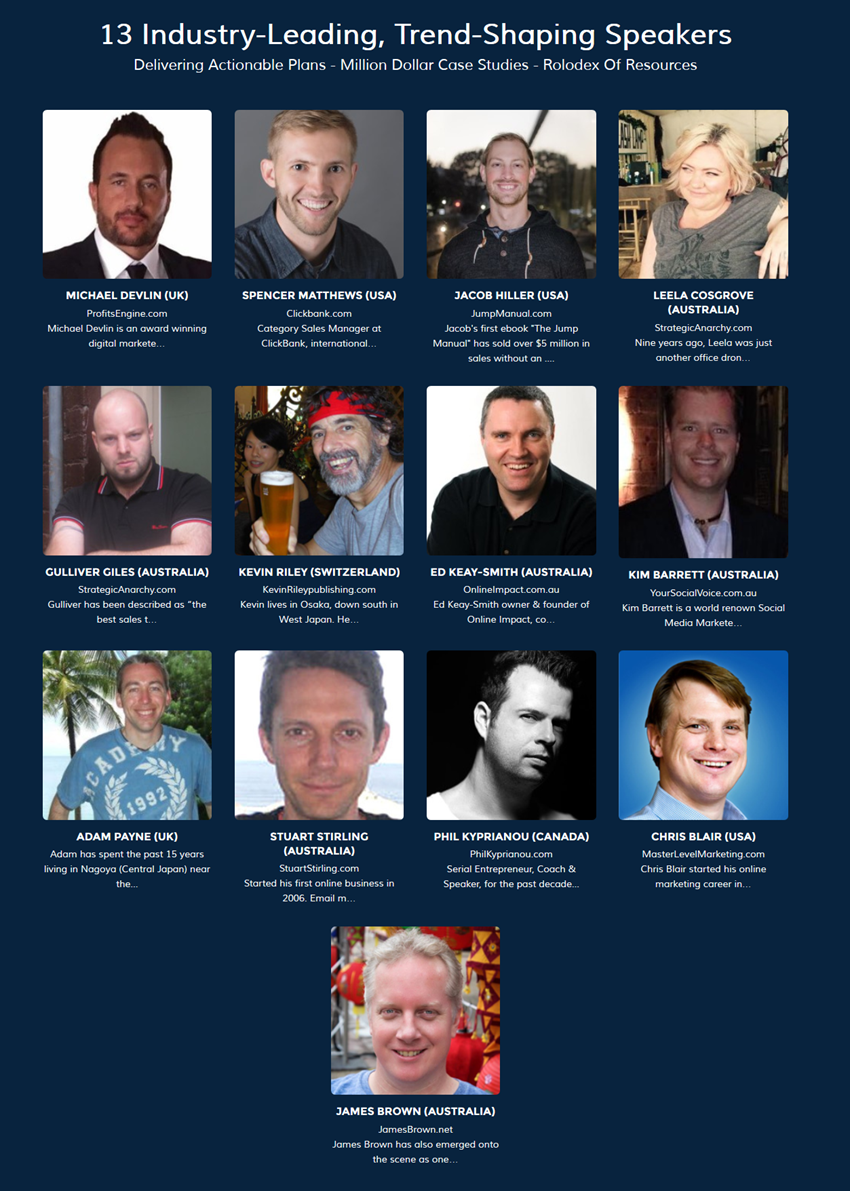 Course preview and screenshots
James Brown & Chris Blair – 2015 Netpreneur Summit Contains: Videos, PDF´s, Bonuses