"How To Get More Readers, Make More Sales,
And Become a Recognized Expert – FAST!"
Here's the TRUTH!
Writing your ebook is the EASY part! Getting readers and *Selling* your ebook is what separates the real ebook authors from the wannabes and newbies!
BUT – There's a problem..
Most people who write an ebook will NEVER sell more than a handful of copies, if that. Why?
They get their ebook posted to Kindle – don't do any marketing -and then sit there and wonder why they're not selling any copies.
They get a website up and running – don't do any marketing -then sit there and wonder why they don't get any visitors
They even offer their ebook for FREE and STILL can't understand why they don't get more than a handful of readers!
In fact, nowadays it feels almost impossible to rise above all the noise in the ebook marketplace and get noticed by the people who could read or promote your ebook.
But luckily for you, there's now a solution…
Introducing…
"eBook Marketing Machine"
It gives you exactly what you need to know for marketing and selling your ebooks…
It cuts through all the fluff and you'll know exactly how to build the marketing momentum you need to get more readers, make more sales, and build REAL credibility in your niche.
.
You'll discover exactly what needs to go into your website to make it an ebook-selling, reader-grabbing powerhouse!
Find out why "Email Marketing" is critical for your success as an ebook author and exactly how to implement it the RIGHT way. The power is in the list and follow-up, and we'll cover both in-depth…
Discover the exact tools you need to build up a RABID fan-base of loyal readers, whether you want to make money *just* selling ebooks, or also use them to build up your coaching, consulting, or even brick-and-mortar business.
The TRUTH about buying traffic to your website… and the TRAPS to avoid when spending ANY money on ads.
The single best PAID advertising source you should test (and NO, it's NOT Google AdWords)…
How and where to find super-affiliates to help push your ebook to their big lists…
The truth about blogging, guest blogging, Facebook, Twitter and more when it comes to consistently marketing your ebook as an author (especially a NON-Fiction author)…
The simplest and most powerful strategy I personally use to NEVER run out of "FRESH Content" to use to promote my ebooks (I've been doing it for 15 years!)
and much, MUCH MORE!
So, Here's Exactly What You Get With "eBook Marketing Machine"
Seven (7) Video Modules (Webinar Replays) with me (+ enhanced transcripts [PDF], MP3 audio, iPod Video [mp4], and other BONUS goodies), including a Q&A module that answers over FIFTY (50) specific questions about getting "un-stuck" with your ebook marketing!
We cover exactly what works in today's market, including:
How to define your audience and know exactly what they want, BEFORE they even know it!
Exactly what your website needs to do, how to structure it, and how to set it up for maximum sales.
How to build up rabid email and social media subscriber lists of targeted readers who can't wait to buy and read whatever you offer.
How and where to use content as "Bait" to grab targeted readers, build credibility, and make more sales.
How to make real connections not only with readers, but with people who will promote your ebooks just because they love them (and you) so much.
How and where to buy ads that actually work, instead of pissing your money away on Google AdWords.
I'll show and tell you exactly what I do to sell ebooks (no magic buttons – just the real deal and how you can build marketing momentum for your own ebooks)
Bottom Line: get the skills, tools, checklists, and action steps you NEED to get more readers, sell more ebooks, and build your professional credibility.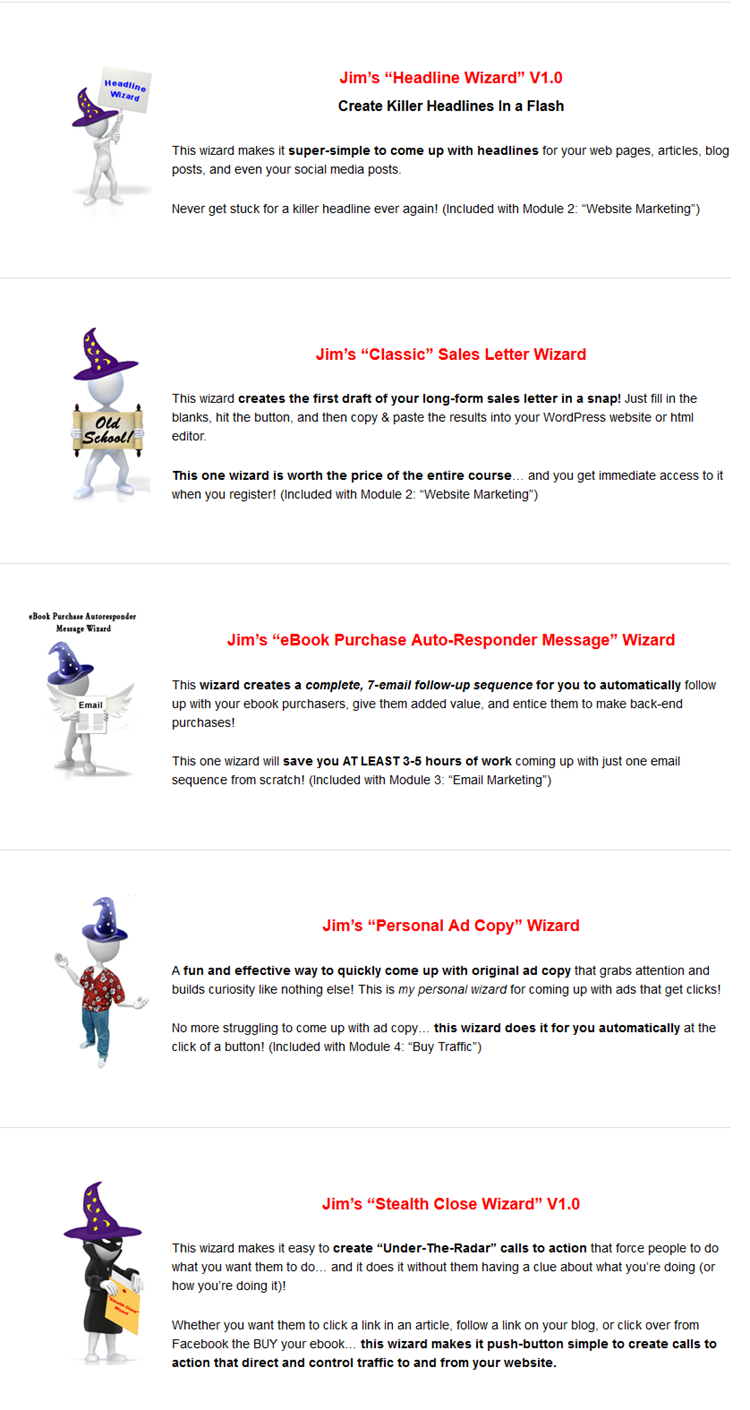 Course preview and screenshots
Jim Edwards – Ebook Marketing Machine Contains: Videos, PDF´s, Audios….