GET 1-5 NEW ONLINE TRAINING CLIENTS IN 7 DAYS
(with no paid ads or phone selling) GUARANTEED!
Who is it for:
Fit pros ​
Gym owners ​
Nutrition coaches
And anybody else working in the fitness industry who wants to get 1-5 new clients in 7 days with no paid advertising or phone selling
What's needed to start
You do not need a website, landing page, or large social media following prior to embarking on this challenge.
You also do not need to have trained clients online before. But if you have, that's fine too. Nothing needs to be done in advance. Just come prepared to take action.
You do need a Facebook and/or Instagram account (personal is fine, you don't need a business account).
Check Out These Incredible Results From Previous Challenges!
*The following contains self-reported data from previous Founding Client Challenge participants

It's OK That You Don't Have it All Figured Out Yet
Did you know that Thomas Edison would alert the press about an idea before it was ready?
It's true.
He'd create excitement and generate publicity as to the possibilities about the invention before the invention existed.
If he delayed or dropped the ball, his reputation would suffer. To avoid this, his mind would spark into high gear to make it happen.
A secret to Edison's success was this manufactured external obligation.
Necessity demanded that he took action.
Edison knew that when you have an obligation to others you don't sit around wishing or hoping. You get things done – because you have to.
Perhaps this is why Bob Marley famously said,
"You never know how strong you are until being strong is your only choice."
This challenge forces you into (im)perfect action.
Once you register, I'll provide you with a proven formula (84% success rate) that takes the minimum effort needed to get you the paying clients required to test this business out. That's why . . .
. . . This Challenge is Guaranteed to Get You Clients Before You're Ready in Just 7 Days!
IF YOU'RE LIKE MANY OF THE PEOPLE that we work with, then you're aware of the exciting opportunities online training provides but you don't quite 'get how to do it'.
And honestly, nothing I tell you would help you get how to do it.
We've found that the biggest thing stopping great fitness and nutrition coaches from venturing online is that they have no idea how and it's hard to learn.
If you're at all like me then you're busy and feel like you've got a lot of competing priorities.

With so much to do, attention, thoughts, and efforts become diffused. As a result, it feels like you're working hard but nothing happens and frustrations mount.
It's true that online training is different.
It is like nothing you've done before. There is a lot you need to know. And in order to 'get it' you've got to test it out with real clients.
The trick is that you need a way to get clients before you're ready. I can help.
It's the Beginning of Your New Journey
I'm going to get ahead of myself here because I feel it's important to show you what the entire journey looks like so that you can envision your own growth in this challenge and beyond.
Step 1 is to get your first few clients with this challenge.
Once done, it's time to reinvest your profits from the challenge into step 2: getting the training and mentorship you need to learn the ins and outs of the business.
Step 2, the Online Trainer Academy Certification and Mentorship (OTA), is where you learn how to take amazing care of your clients AND build the ideal online fitness business for you. In step 2, you'll get your foundation, growing a stable clientele and platform.
The reason that this challenge precedes OTA is simple: we've found that people benefit much more from OTA when they've already worked with a few online clients. It allows them to more accurately assess what needs to be done when they work with our mentors.
When done, you'll be rolling. And it's time to move on to step 3 –scaling to 6k/month and beyond with OTA level 2.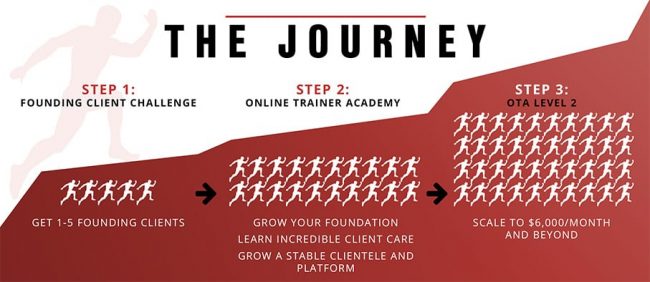 We'll mentor you for your entire journey, step by step, beginning with the Founding Client Challenge as step 1.
Once you've finished the challenge you'll have the confidence that you can do this, clients to test with, and money to reinvest back into step #2 where you grow your foundation and clientele.
How the Challenge Works and Why It's so Effective
You'll tell prospects up front that you're testing a new program, and you're inviting them to be a part of the process.
(And no worries if you're experienced. You can still market a new program with a new hook or angle for more clients. We'll show you how.)
In return for becoming founding clients of your online training program, they get a big discount-a great deal you'll never offer to anyone else.
This simple tweak in language gives you the permission to take (im)perfect action while simultaneously giving you the most sensational elements you could ever include in a marketing promotion: a compelling offer with a limited number of spots and a fixed expiration date.
Here's what's provided to make this process as easy as possible for you and ensure your success with the challenge in just 7 short days:
The manual, road map, and checklist so that you always know what to do.
A simple, accessible, and effective lead generation strategy ​(all organic. No paid ads.)
Proven sales scripts (all done through instant messaging. No phone sales.)
BONUS! Done-for-you content
BONUS! Unlimited support from my entire team of Online Trainer Academy mentors for the 7 days
Like building a great body, building a great business requires a proven, step-by-step process.
Since 2013, we've helped over 25,000 fit pros add an online component to their business. This unparalleled experience has led to a massive information advantage for you to benefit from.
It's time to get started. Let's begin this journey together. I'm excited to show you how much your life can change in just seven days.
Here's What to Do Next:
Step 1: Register your spot in the next Founding Client Challenge cohort.
Step 2: Read the quick note I'll send via email with details on next steps.
Step 3: Get excited for next week!
Jonathan Goodman – The Founding Client Challenge Contains: Videos, PDF's
Screenshots (Click to enlarge)