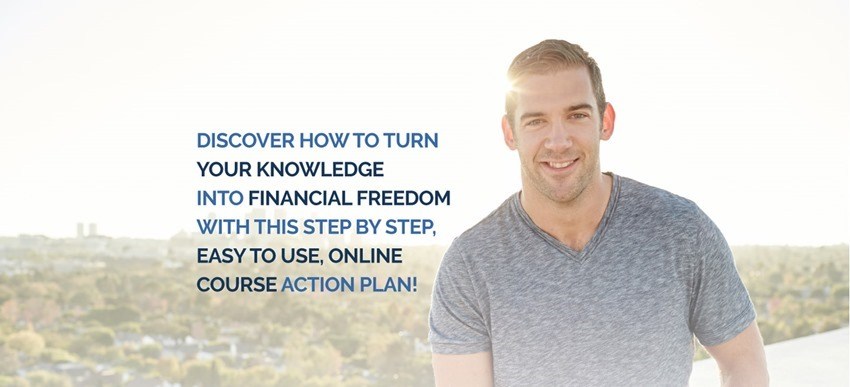 If you are an entrepreneur, freelancer, author, podcaster, coach or career professional who has been struggling to figure out how to earn extra income on the side, or if you want to turn your passion into a full time income, then keep reading. Below, I'll share with you the easiest solution to overcome all of these challenges.
Make More Money With Profitable Online Courses!!!
NOW is the time to make your mark in the digital marketplace.
Getting direction in the online space can feel overwhelming, to say the least. When I first started out selling my courses online, there was no one who guided or helped me avoid all the costly dumb mistakes I made. There's so much that goes into the course creation process. You may be asking:
It is completely overwhelming trying to do this on your own. It seems like every day there's a new training, free guide, or blog post about the next best thing.
What exactly do I sell?
Will my product be profitable?
Who would buy my product?
Why would people buy from me?
How do I find my first customers?
How do I set it all up?!
What's the right software to use?
What exactly do I need to do to create, record, and package my content?
What do I include in my course?
How do I market, promote, and sell my course?And so on..
To be successful with Online Courses, your job is to create a course that helps people solve a problem they are having.
Your course will help your customers get faster, better, more amazing results.
The biggest challenge you'll face is how to create a course, market it, and sell it.
I'm here to teach you how to do it all. __
I've created the first ever comprehensive training course for all different skill levels.
With Profitable Online Courses, setting up your online course isn't complicated, costly, or time consuming, and you don't need to be a tech genius to have amazing courses.
All you need is a passion and the desire to take action!
Previously in the world of online course building, there were so many puzzle pieces to fit into place, but none of puzzle pieces really "fit" together. Before you blink, you're finding yourself knee deep learning 6-10 different new softwares you have to master before you can even create and sell your course.
The technical set up is the least favorite part of the process for entrepreneurs who just want to get their information into the marketplace and start generating extra income – and for good reason!
Building Online Courses from start to finish used to be a HUGE headache.
The only alternative to bootstrapping the technical set up and spending countless hours learning how to do it yourself was paying someone a ton of money to do it for you.
This could cost you $5,000-$10,000 on the low end!!!
Which isn't a good alternative!
I agree this is a broken system and needs to change. That's why in Profitable Online Courses we've simplified the ENTIRE course building process.
Profitable Online Courses will save you hundreds of dollars and hundreds of hours of set up by helping you:
Figure out exactly what to sell
Identify a profitable product
Find your perfect customer
Seamlessly integrate all software and technology
Find the sweet-spot price point of your product to help you achieve your financial goals
Develop a step-by-step process on how to create, record, and package your content
Market, promote, and sell your online course
Here's Exactly What You'll Receive When You Sign Up for the new and improved Profitable Online Courses:
How does this compare to MY other programs:
This course teaches you how to create an online product if you do not have one.
Profitable Online Courses is my fundamental course on how to take action and generate results making money online with courses.
My other online course on Webinars teaches you how to market your product and service online to generate results (this course is a great place to start if you want to use webinars in the future but you don't have a packaged online product to sell – yet __ )
If you're interested in making money online with integrity, this is the course of mine to invest in.
How does this compare to other online course programs out there?
Profitable Online Courses implements my methods of training for how I've learned to crack the code and get the best results online.
This course is applicable for all skill levels – beginners without a course and advanced students with online businesses have taken this course to refine and improve their results..
It's the most comprehensive training for building an online course. The course includes a step-by-step process from conception to launch.
I give you all the tools and software you need that works the best for my business – and I know will work the best for yours.
This course is designed to get you into action and out of analysis paralysis. I provide a roadmap of coaching and direction to get your from A-Z.
Unit 1 The Set-up Process
How to craft your product idea, logo, and name
How to secure a website, histing and a support email address
How to create your content
How to create "bonuses" for your course and course promotion
How to record the content for course
Unit 2 The Technical "Stuff"
Technology setup for your course
How to Create High Converting Sales Pages
Unit 3 Sell Your Product
Price point strategies
Refund policy
Creating an upsell/downsell
Marketing/launch strategy
LAUNCH! Promote, Sell, and Deliver Content!
Bonus Training
Get Raving Testimonials
Position yourself as an expert with Social Proof
Write an Epic Biography
Promote to your audience
Grow your audience through social media
Grow your audience through paid advertising
WHY IT WORKS:
1 I give you a step-by-step process for everything (start to finish, you'll learn what it takes to create a successful online course)
2 I share the exact system of how I've created all my courses and coached all students to create theirs
3 I show you how you can implement each step as efficiently as possible – to help you avoid overwhelm!
4 I give you exact recommendations on each resource, software, tool, etc. I use so you don't have to research every option yourself
5 I show you how to apply the basic framework to any product or business, so you can customize your course confidently
Course preview and screenshots
Lewis Howes – Profitable Online Course Contains: Videos, PDF´s