I've released Fiction Book Formula to a select group of early-bird students. This is an experimental test pilot run of the Fiction Book Formula system. Although I've followed this system myself with success, I haven't yet tested it with a group of students. I'm going to take a small group of highly-motivated individuals who are looking to publish high-quality fiction books.
You are going to get the exact system that I'm using.
This is not a fly-by-night or flavor-of-the-month program. Because of the way I've published these books, I will be able to earn money from them for years to come.
I want you to be able to get similar results of your own, so here is you will get when you become a student of Fiction Book Formula:
– You get 16 step-by-step videos that detail the exact process I follow, from A-to-Z.
Nothing is left out. These are not hour-long videos. Rather, each video is between 2 and 15 minutes long, giving you the exact detail you need. They are topic-specific and designed to be easy to reference anytime you need them. Simply follow the instructions in these videos, follow the step-by-step formula that I've laid out for you, and you'll have a brand new fiction book that sells like crazy.
These videos cover everything you need to know, from how to research the best-selling fiction books to choosing a title to hiring a writer and publishing your book. It's not difficult.
– Get More Sales Advanced Promotional Techniques Video
In the last video of Fiction Book Formula, I reveal advanced techniques that anyone can use to promote their books and get more sales. Even though Amazon organically drives heavy sales to your fiction books, you can use some of these little-known secret methods to help push your book higher in the Bestseller rankings.
– Copy-and-Paste Template #1: Story Writer Hiring Template
That's not all though. You are going to get the exact copy-and-paste template I'm using to hire my fiction writers right now. You can start using this template right away to hire the best story writers to create high-quality fiction books.
This template is special because it specifically produces your book in a way so that it costs as little as possible, while still providing high-profit potential.
– Copy-and-Paste Template #2: Professional Book Publishing Template
If that weren't enough, I'm going to give you a book template that you can use to produce your own Fiction books. This book layout document is similar to the ones used by professional publishing companies, to give your book as much credibility as possible. The more professional your book's appearance, the more copies you sell.
It's that simple.
– Copy-and-Paste Template #3: Theme and Plot Story Template
You're also going to get a copy of my Theme and Plot Template. This template is part of the system that I use to describe exactly what kind of story I want my writers to publish in my book.
This template is powerful, so give it to your writers only after you hire them. You determine what kind of story you want to publish during your research and this template does the rest of the work for you.
– My Personal Research List: Hottest Fiction Markets and Storylines
Last, you're going to get exclusive access to my personal research list of popular fiction niches. These are fiction markets that are packed to the brim with hungry readers, looking to buy your latest fiction book. You can use this list to come up with an almost never-ending stream of bestselling story ideas.
It's obvious.
Fiction Book Formula contains all of the training and tools you need to get started with your own fiction book publishing business. When it's this simple and cheap to get top-quality writers to write books for you, you can publish book after book and watch your monthly income grow.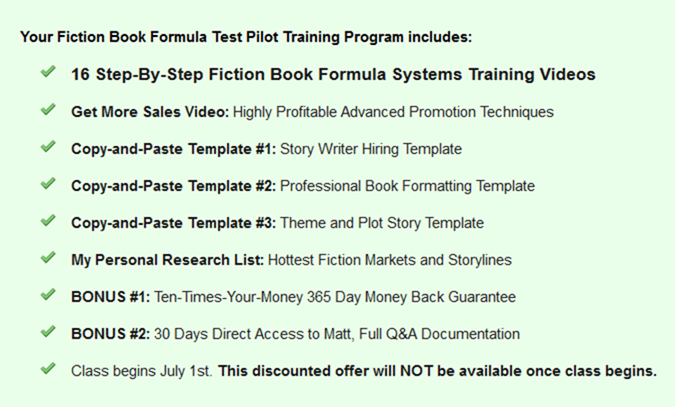 Course preview and screenshots
Matt Rhodes – Fiction Book Formula Contains: PDF´s, Videos, Documents