"Easy 4-Step System Attracts Raving Customers To ANY Website You Choose
By Using 100% FREE Content!"
(Nearly all the work is done for you.
But you don't pay a penny.)
If you aren't using free content to make money in your online business, listen up.
I'm going to reveal my ultra-easy 4 step system for using free online content to attract customers and make more money in my business.
This letter could completely change the way you do business, making it far easier to attract targeted new customers who are truly eager to buy your products and services.
Best of all, this content doesn't cost you a single penny to produce.
The Work Is Has Already Been Done…
(You Just Reap The Rewards)
Let me tell you how it all works.
My name is Matt Rhodes, and I've been using free content in my business for years to get more sales and make more money. It's so powerful that I immediately implement my free content strategy in all of the businesses I create.
Most people think you have to spend $1,000's to get high-quality writers to write compelling content that attracts new visitors and converts them into sales.
That's simply not true.
If you've been spending a lot of time and money on developing content for your website or business, STOP right now. You can use your resources in a much smarter way.
Instead of wasting my time focusing on SEO or Article Marketing like everyone else does, I simply use sources of FREE content that are available to everyone.
These sources of content cost me nothing, have already done nearly all of the work for me, yet I'm able to use it to produce my own unique content that attracts millions of visitors organically.
Free content is the #1 source of visitors for my small network of websites that has gotten over 18 million visitors over the past 2 years.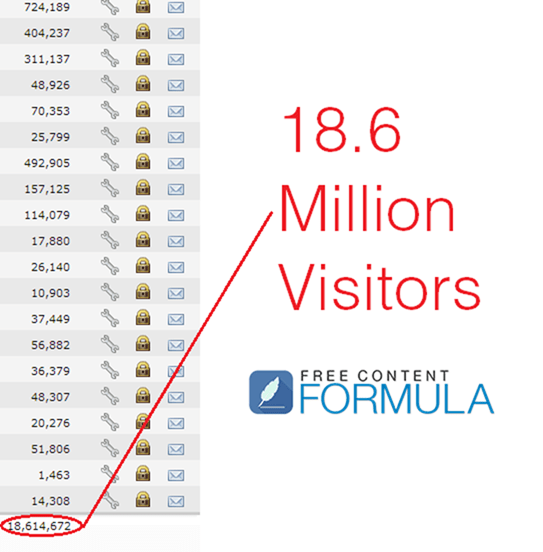 FREE Traffic Always Beats Paid Traffic!
A lot of businesses would pay BIG for this level of traffic, but it just comes naturally to me (and completely FREE) with my simple system.
Do the math.
At 18.6 million visitors, if I were to pay just $0.05 per click for that much traffic (a VERY low price…usually it costs $0.25, $0.50 or more per click) I would have had to pay…
$930,000.00!
Imagine how much more it would cost if we were talking about paying a more realistic number, such as $0.25 or $0.50 per click.
Not to mention the fact that people can be VERY RELUCTANT to click on paid ads…but they'll check out your free content all day long (and then talk themselves into buying your products and services!)
We didn't have to pay a dime for that traffic. It was all completely free to us – plus all of the content we used was from FREE sources.
(Few people can beat that.)
If you had this level of traffic streaming into your websites, how much money would you be able to make? With millions of visitors, earning $1,000's in ad revenue, product sales, service upgrades, all becomes second nature.
It becomes much easier for you to pull in staggering amounts every single day.
However you choose to earn a profit from your traffic, the free content that I use has already done nearly 99% of the hard work for you. My 4 step system makes it so easy. This is what I do…
This 4 Step Process Makes It Easy:
Go Through Your List of Free Content Sources

First, I identify the content that is relevant to my business. Don't worry, you can find free content for literally every market or business out there. The list of free content is endless – in fact, it's growing by the day. There is usually there's so much free content available to me that I can't use it all at once.

Sift For "Diamonds"

Next, I sift for diamonds. I go through all of the free content available to me and identify which of it is most valuable to me. I refine the diamonds and wait for more to appear. (New content and diamonds appear for me daily.)

Apply Conversion-Boosting Techniques

Once I've found the diamond-level content I want to use, I apply a few ultra-simple conversion boosting techniques to the content. With these techniques, I'm able to attract more visitors, and more importantly, turn more of them into loyal, paying customers that stick with me for the long-term.

Scale Up – Fast!

As you use more and more content and begin to see the impact of what you're doing, it's only natural that you'll want to scale up to get more results. You can follow an easy, step-by-step scaling up process once per week to take your business to the next level.
But, Here's the Real Secret…
The real secret here is that you need a scalable, repeatable system that you can use to extract free content, refine into diamonds, and scale up fast. Luckily, I have just that system.
(Actually – I have several systems…and you get instant access to them all.)
I don't believe in doing even a single drop more than is absolutely required. After all, if you can reach your income goals for half of the effort and a quarter of the time it takes everyone else…why on Earth would you do more?
I developed my in-house free content system to save myself time and money: I wanted to do as little as possible, while still producing the ultra high-quality content that attracts visitors to my businesses and converts them into paying buyers.
It's worked wonders.
And today, you get access to my proprietary system. I'm very proud to introduce…
Free Content Formula is my complete step-by-step in-house system for:
Finding great sources of free, high-quality content
Sifting through the content to find "Diamonds" that can make you money
Applying ultra-simple conversion techniques that boost sales and engagement
Rinse-and-repeating the process in a special way to scale up fast
The system is so easy to use that you'll feel like you're "cheating" (but don't worry – everything you do is 100% ethical and white hat.) Virtually all of the work has been done for you already, you just take the content, apply our techniques, and reap the rewards.
And yes, again – you won't have to spend a dime, and this will work for virtually every market!
But that's only the beginning of what you will discover inside Free Content Formula:
Free Content Formula starts things off simple and easy. It won't overwhelm you with information. It won't require you to first read and understand a 300 page manual. Right from the beginning, you are taking simple action steps that will dramatically improve the quality of the content on your website. NO fluff, no filler.
It's designed specifically to be simple an easy to understand. It's all spelled out in black and white. Including Process Maps, step-by-step checklists and by-the-hand walk-throughs through all the processes and software used.
It's designed to be a simple, repeatable process that produces high-quality content that works every time. This method shows you how to almost never fail to create the highest quality content, by showing you the short-cuts that are responsible for 90% (or more) of content production. You won't even need to learn and practice these short-cuts. They are "hard-wired" right into the system. You just need to follow along.
Over time … at your own pace … the results will continue to grow week after week. In fact, even taking this casually you can double your results the second week and double it again the week after. The Free Content Formula Scaling Process makes this happen naturally.
It's designed to work as a stand-alone content strategy, or be integrated into an existing one. Whether you're just starting out or have been in business for months or years, this can take your business to the next level…giving you higher quality content that helps you get more sales with far less time and money.
This system is so powerful, the only real "work" you need to do is to choose which sources or keywords you'd like to use, then edit the free content. The process naturally takes your business to new heights. We show you how to do all of it.
Course preview and screenshots
Matt Rhodes – Free Content Formula Contains: PDF´s, Videos