Learn how to design websites & apps
Most Photoshop courses start by teaching you how to remove redeye, crop a photo, or remove unwanted background elements. Skills used by photographers, not web designers.
The valuable interface design skills, such as paths and layer styles, are saved for intermediate and expert level courses. Meaning you have to suffer through learning how to turn a photo black and white before you can learn to improve your software design.
Learn skills you'll use every day
Photoshop is such a powerful tool that it is used by everyone from print designers, to photographers, to app developers. Unfortunately that power comes with a complex feature set that is time consuming to learn.
That's why it's important to learn the tools in Photoshop that are actually used for designing websites and software—skipping past the parts that may be useful someday, but won't get that app designed in time for your product launch.
In record time
How much is your time worth? If you're like me your time is one of the most valuable things you possess. Designing an application faster means you have time to add more polish.
Cutting through the unnecessary fluff in most training courses means you learn faster and have more time to create. Personally I'd use that time to create a new product—or better yet, take some time off to spend with family and friends.
With real-world examples
Working as a professional designer for over 7 years has taught me which techniques are critical to producing great designs (and which you can ignore, since you won't use them regularly). This course is based around teaching you the Photoshop techniques to create the beautiful designs you see every day around the web.
Then you can practice the techniques on your own by working through the provided exercises to make you really learn the necessary skills.
Each lesson starts by teaching you a particular technique—then puts it into practice with several hands on examples, designing actual interface elements.
In Photoshop for Web Design you'll learn exactly the skills needed to use Photoshop to design great software and websites. From iPhone apps to web apps, to product sales pages, you'll start with the skills and tools used by professionals.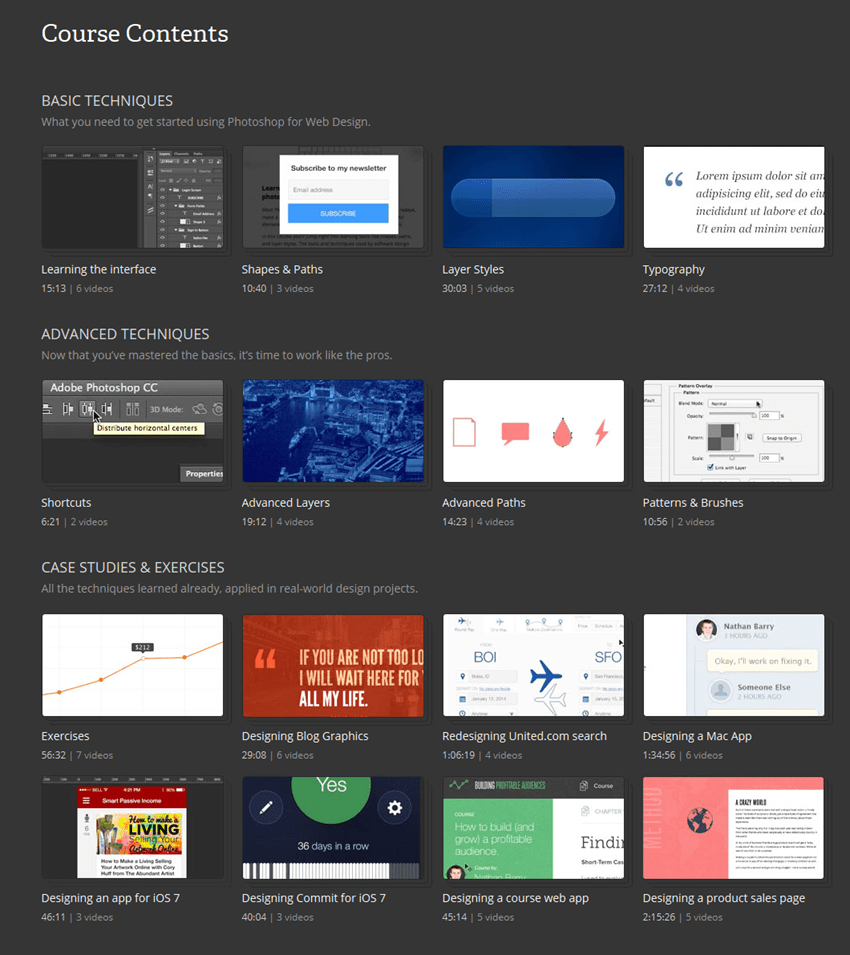 2 hours of course videos on using Photoshop for Web Design (24 videos).
7 exercises to implement what you've learned.
Free updates each customer gets free updates for one year!
6 case studies designing real-world applications (over 6 hours of content!).
22 PSD files to learn from and follow along with the videos.
Course preview and screenshots
Nathan Barry – Photoshop for Web Design Contains: Videos, PDF´s, PSD