Want to SUPERCHARGE Your Results with Video?
"Discover my Secret 11 Step Formula for
Creating 'Animated Explainer Videos' that
Grab Attention & Turn Viewers into Buyers"
Over the course of 18 detailed video lessons, you'll learn how to create high converting videos that sell more of anything online.
Sales videos, video sales letters, pitch videos, upsell videos, lead gen videos, launch videos, explainer videos and more.
You'll learn how to make them all in this course.
What's Inside:
What's Your Goal?The one thing you must figure out before starting any video, and why your video will fail if you don't figure this out.
Ninja Script WritingHow to write high converting scripts for your videos, so you can convert more of your viewers into buyers.
The Perfect VoiceoverHow to find the perfect voice of your video and why it's more important than you think.
Hollywood Producer TacticsUse this simple video planning tactic to create blockbuster videos that people actually want to watch.
Tools of the TradeMy top 5 favorite tools for creating high converting sales videos, upsell videos, lead gen videos, web commercials and more.
Ready, Set, Action!The quick & easy way to shoot live action footage on the cheap.
Editing SimplifiedFollow along with my "quickfire" video editing technique and create your own marketing video masterpiece.
Sound that SellsUsing the power of sound to tap into your viewers emotions and leveraging this to make more sales. (sneaky)
Multi Device FriendlyLost viewers = lost sales. Here's how to make sure everyone sees your video, no matter what kind of device they're using.
Get it OnlineBad video hosting = slow load times = lost sales. Here's how I host the videos that power my 6 figure businesses.
Optimize & Increase ProfitsThe common breaking points in most marketing videos and how to keep your video profitable for yrs to come.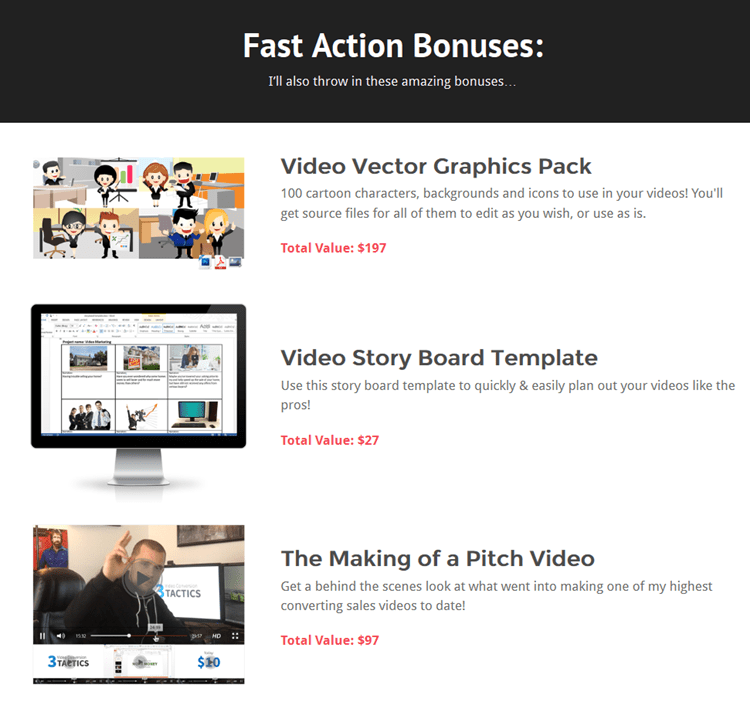 Course preview and screenshots
Peter Beattie – Perfect Pitch Videos Contains: Videos, Bonuses