"How Would You Like
My Instant Formula For Creating
High-Impact, Persuasive, Converting
Sales Letters in the Next Few Minutes?"
Every time I apply my simple 6-step process to create a compelling web page… it grabs attention, excites people, and gets them ready to buy any product or service… at any price point and in any niche.
This exact formula makes my house payment every month. It paid for my car in cash. Put me through 4 years of college and kept me out of debt. But what about you?
Imagine yourself affording a bigger house or apartment…
…APPLY THIS 6-STEP FORMULA!
Imagine yourself going on a multi-city vacation to get away from it all…
…APPLY THIS 6-STEP FORMULA!
Imagine yourself retiring early or quitting your day job…
…APPLY THIS 6-STEP FORMULA!
Here's why this formula is crucial to your online success…
Every day, hungry visitors find your web site from blog posts, articles, search engines, social media, and countless other channels…
But If Your Web Page Sucks,
They're Gone Forever! You Just Missed Out On The Biggest Chance
In Order to Get the Sale…
Attention: You need to re-think everything you "thought" you knew about copywriting, sales letters, and web page design. It's all wrong. But the good news is, it's easy if you do it the correct way.
Whether you have a service, CD, DVD, book, report, course, or other product to sell online, you're probably selling it in the wrong way.
If that blog post you setup doesn't grab your readers attention, then you have a problem.
If you spent thousands of dollars and months of your time creating a professional looking video that people simply don't watch to the end, then you have a problem.
Even if you created a single web page where the only thing people could do, was read and buy, and they STILL aren't clicking… then you have a problem!
Luckily, it's not your fault!
You've just missed out on the proper training to get people as excited as you are about what you're offering.
You Need a Sales Letter: A Single Web Page "Brochure"
Getting Everyone Salivating at the Mouth
To Click Your "Buy Button!"
Even the smartest and most skilled marketers can't sell without a sales letter.
Internet marketer Mike Enlow once placed a newspaper ad offering to sell real $100 bills for just $10.95 to cover overnight shipping. Killer offer, zero takers!
World famous author Stephen King once tried to sell a digital book, chapter by chapter (called "The Plant") on the honor system — you like the chapter, you pay for it — the book is still not complete!
You too might have the same problem… no sales letter, no sales.
And yet, I've taken some of the most boring subjects imaginable: WordPress plugins, programming tutorials, even videos about outsourcing — and made them FRESH and EXCITING — always pumping out $3,000 within the first few days — because of sales letters.
You Too Can Claim (And Use)
This 6-Step Formula To…

Make a sales letter for your digital or physical product

Take your offline business online in record time

Improve an existing sales letter and triple your conversions

Write sales letters for clients and keep 100% of the profits

Make more sales and higher profits from better conversions

Enjoy more money from tiny, easy, and quick changes
I want to show you, right now, how to duplicate my success. Even if you've never heard of a sales letter. If you've never created a sales letter in your life.
EVEN if you're an expert copywriter!
The "old" way of creating sales letters is slow and outdated.
I'll Show You How To Do It FAST!
There's Simply No Better Alternative…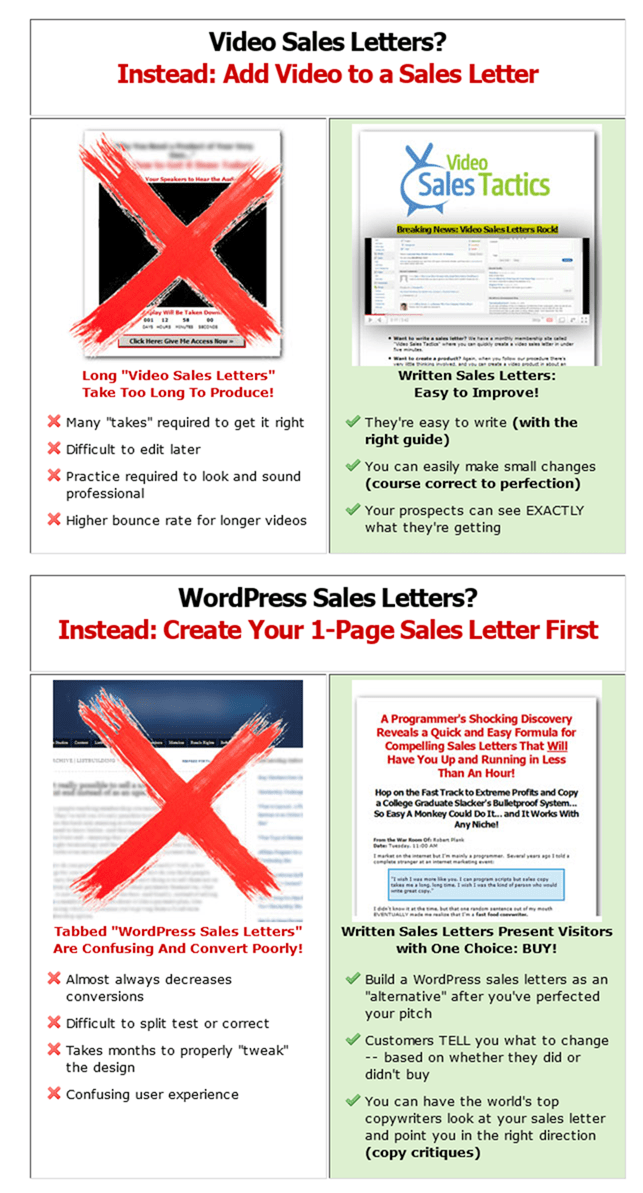 You see, things change on the Internet all the time, but for the past 150 years, any kind of advertising has required that: you grab them with a headline, you introduce your story, and then you solve their problem with your product… all while revealing just the RIGHT amount of detail at just the RIGHT time.
Any way you look at it, WRITTEN sales letters are the best way to get the highest amount of sales, period!
You don't have to read or "re-write" thousands of ads. You don't need to take notes. You don't need to study pages and pages of materials… just use a simple formula.
Sounds Good… Tell Me How to Create One of These
"Sales Letters" You're Talking About!
The really great news — that most copywriters don't want to tell you — is that YOU can discover this 6-step formula once, and you can crank out an unlimited number of sales letters 100% free.
And once you do, you'll make a sales letter that's far better than many $10K, $30K, or even $50K per letter copywriters.
The reason: your sales letter is powered by YOUR emotions, not someone faking your emotions!
Crafting an offer and listing out benefits are easy things to do. Literally anyone can do it.
But getting excited about your training course? That's something that YOU already do naturally, but when you hire a copywriter… their heart isn't in it.
What if I could show you how to use YOUR OWN enthusiasm to assemble one of these "sales letters" and cut out the middleman — by following this step by step system?
Not only will you save tens of thousands of dollars, but you'll save weeks of time — by finishing it today — and the finished product will be much more interesting.
Which Means It Will Convert Better…
And Make You More Money!
And then you can course correct as you go along, making money every day while also making these small changes to increase your bottom line.
Save time, frustration and aggravation by using this foolproof step by step formula to starting your copywriting process off with a BANG — by beginning in the MIDDLE of your copy — that grabs the attention of your readers and doesn't let go!
Are you losing sales and customers to your competition just because you're missing out on this basic principle?
Hint: If your buy button is too high or too low down your web page, people simply won't buy. Don't be another statistic and apply this basic 3-second "test" to your web pages
You can have the best looking web page template, the best offer and even the strongest argument for that offer… but if your headline sucks, no one is going to see it!
It's not your fault… you just need to take a couple of minutes to decide which of these three proven headline systems is right for you… and watch your conversion rates soar
Imagine being able to make a few small changes to your sales letter and instantly justify selling it at twice, five times or even ten times the price — or higher…
How is any of this possible? When you use the step by step system I've tweaked to perfection over the past decade (resulting in hundreds of pages of sales letters)…
I can take the same information that would have taken you years, and compacted it into the most powerful training course on copywriting ever invented!
And the best part is, I'll show you not only how to write GREAT emotional and profitable sales letters, I'll show you how to do it fast…
Introducing: The "Speed Copy" Step by Step
Interactive Training Course
Let's face it, you haven't succeeded in creating sales letters by reading books or combing the internet for free information.
The "other" information just doesn't work, there's no step by step… until now!
On the internet, there's no telling who you will receive information from for free on some forum — and many popular courses and blogs contradict themselves.
(True story: I once read a blog post that said, "Always Write Your Headline First" and then a few months later, published a post saying, "Always Write Your Headline Last!")
I'm glad you found this web page today, because I don't believe in theory. Over the past few years I've created 79 sales letters totaling over 798 pages of copy, all on the Internet.
Module 101: The 5 Minute Sales Letter is
Easy When You AVOID Writing…
"Assemble Your Sales Letter"
Module 102: More Money from Tiny Changes!
12 Simple Ways to "Improve Your Sales Letter"
Module 103: Let OTHERS Do All the Work,
With Your Own
"Product Launch"
Module 104: Convert Visitors into Buyers!
Increase Your Prices Instantly
When I Show You
The Secrets to "Advertorial Copy"
Course preview and screenshots
Robert Plank – Speed Copy Contains: Videos, PDF´s, Audios, Documents, Templates….