Successful Companies Don't "Wing It"
With the Level 7 Masterclass, you'll build a strategic plan to (at least) DOUBLE your sales, DOUBLE your profit, & DOUBLE your take-home pay!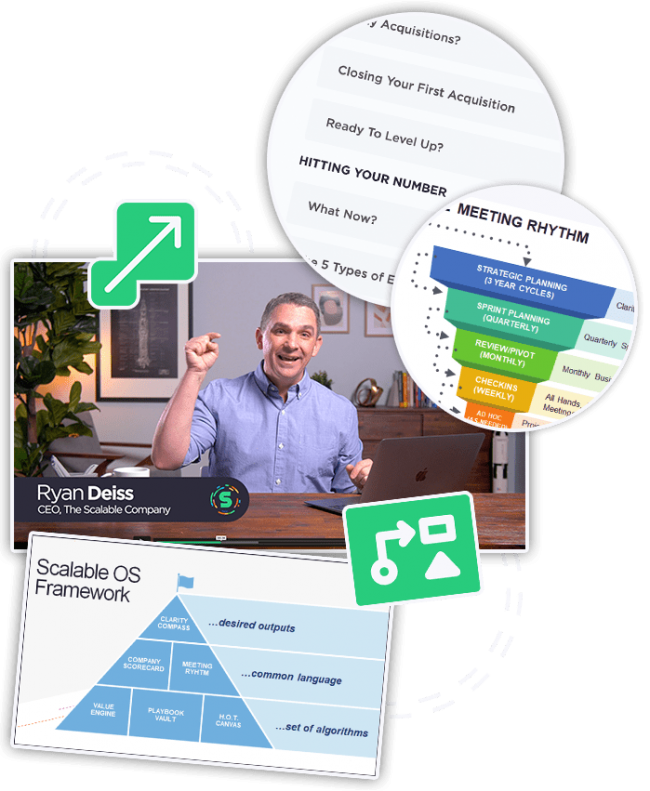 A STEP-BY-STEP PLAN TO
Win The Game Of Business
The Level 7 Masterclass is a nine-lesson, 7 hour course that teaches you the shortest path possible to go from a struggling startup to a high-profit, high-impact, exit-ABLE business that gives you the wealth and freedom you deserve. And no complicated business school blah blah blah over here. For nearly 20 years, Ryan Deiss has been teaching practical, tactical business strategies that work. Every time.
EDUCATING
You don't need a formal education or MBA, anyone can follow the plan!
ENCOURAGING
You'll build momentum with major wins as you finish each and every level.
EFFECTIVE
Our plan has been proven across 1,000's of businesses in every vertical.
EXPERTISE
Learn from business experts who have been through the levels 5 times.
Lesson 1
The 7 Levels of Scale
If you want to profitably scale a business, you need a framework that's proven to work.
Lesson 2
Defining Your Number
All entrepreneurs need to have a number…a goal they are striving toward.
Lesson 3
Level of Scale 1
Before you can build a business, you must first sell and serve your first 10 customers.
Lesson 4
Level of Scale 2
Shift from one-off sales to predictable, repeatablesales. To do this, you need a "Growth Flywheel."
Lesson 5
Level of Scale 3
Transition from a YOU-dependent business into a scale-ABLE business that can grow without you.
Lesson 6
Level of Scale 4
Shift your focus to bankable profits, and, specifically, putting more of those profits in YOUR bank account.
Lesson 7
Level of Scale 5
Entrepreneurship is lonely…
You need BOTH mentors and peers to support YOU.
Lesson 8
Level of Scale 6
All businesses hit a growth ceiling, and that's why expansion through acquisition is a necessary tool.
Lesson 9
Level of Scale 7
You did it! You scaled a business over 8-figures. Now it's time to pivot into an entrepreneurial investor.
Ready To Go From "Winging It" To "Scaling It"?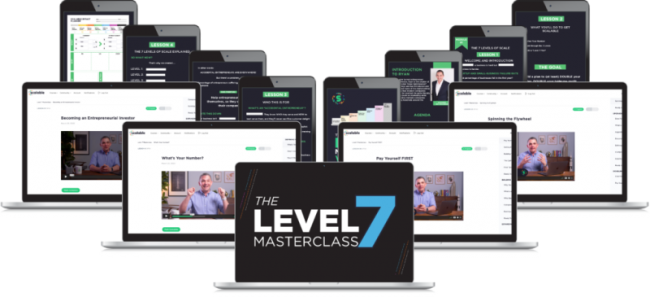 Here's what you get when you claim your access to the Level 7 Masterclass…
9 Lesson On-Demand Training ($295 Value): Filled with over 7 hours of practical, tactical business strategies that work. Every time. During the video training, I'll walk you through step-by-step how to define your "number", clarify your vision of your "Level 7 Life", ascend through each of the 7 Levels of Scale, and create your "Level 7 Plan" to take you from where you are now to where you want to be.
The Level 7 Masterclass Workbook: So you can follow along with the lessons, fill out the worksheets, and track your progress through the 7 Levels.
Our Scalable Impact Planner: Every entrepreneur needs this worksheet, because every entrepreneur needs to have a number…a goal they are striving toward that will allow them to achieve their version of the entrepreneurial dream. We'll define the where, what, why, who, and how will allow you to achieve your goals and live your "Level 7 Life."