Make Stunning Camtasia Videos With More Ease Than Ever
Even if you don't have Camtasia, you'll rush and grab it after this…
(Remember, you can download demo Camtasia for free)
Our videos convert like crazy and so will yours!
Pop in our template, customize in 3 easy steps, hit "Render" and you're done!
Camtasia templates and training designed especially for MARKETERS. Mac and PC training versions.
Other templates (not even made for marketers) can run you $200 a pop.
Huge package of: Done-for-you sales video templates, squeeze page video templates, affiliate promo templates, pre-sell templates, content video templates, and so much more, for less than the cost of one "general" template!
Don't stress about "how" to make a video or "what" it should include – it's all done for you. Perfect for those who rarely use video: all of the work is done. Also perfect for those who are video pros: Get the work done in a fraction of the time.
Our sales videos are proven to boost conversion rates by 50%! Steal that conversion fire-power for yourself right now!
Use your videos for yourself or sell them to other clients and local businesses. Charge $1,000+ for videos that take you 10 minutes to make.
That's extra income you can earn for life by tapping into Screencast Pro today.
There's nothing like Screencast Pro anywhere else. Even Techsmith, the makers of Camtasia, don't offer such good training and our done-for-you templates are unprecedented.
If you have Camtasia, and never use it, or have been curious about getting it, then you need Screencast Pro – it can triple the profitability across all of your videos for LIFE.
Inside the Screencast Pro training, you'll discover:
How to make videos that HYPNOTIZE and CONVERT. Get eyes locked on your video in the first 10 seconds and keep them hooked until they hit the "buy now" button.
No "copywriting" skills necessary. There are a lot of "in video" tricks you can do that keep people in a "desire-trance" as they watch the video. You don't even have to write a word of copy to achieve this! We'll show you how.
Screen capture secrets: Some simple screen capture videos generate many millions of dollars in sales, and some are total duds. You'll be on the side that makes winning screen cap videos when you tap into our screen capture secrets.
How to create UNQUESTIONABLE proof: We all know that proof images can, and have been, faked with Photoshop, but you'll see how to take advantage of video to create proof that no one can doubt for a second.
Prove easiness… with ease: Nearly all sales material says, "it's easy!" but you'll be able to prove it so that even the biggest newbies know they can use your product, and they'll buy from you in bigger numbers than ever before.
Bring still images to life, hold attention, convert higher: Do this one easy thing (a trick stolen by a documentary film director) and you can retain your viewers' attention even when your video consists of nothing but still images.
Be profitably prepared: Ever click "Record" without planning first? This will cost you BIG! We'll show you the stress-free way to plan out your video before you start. This saves you tons of time and energy and gives your video the best chance of being profitable from day 1.
How to never (or rarely) need to edit: Editing can be stressful and time consuming, but when you record the way we do, you'll rarely have to edit. This will put you miles ahead of the curve.
How to get FREE traffic to your videos: Eyeballs on videos are what make you money, and we'll show you our best 100% free, fast traffic-on-demand sources that convert to cash.
Watch Over The Shoulder As We Create Box Office Quality, High-Converting Videos From Scratch
In addition to all of the training, you'll also watch us create videos from scratch, from planning, to recording, to editing, production, and generating traffic. Just copy what we do, and you can have high-converting, profitable videos throughout all of your funnels online.
But the conversion-focused training inside Screencast Pro is only one piece of what you'll receive today.
You're also going to get # high-end templates that will enable you to create your own high-converting videos in minutes.
Video creation (even simple screen capture videos) normally takes days… and if you outsource it… costs hundreds to thousands of dollars…
With your new Camtasia templates, you'll create the most gorgeous videos in the marketplace, with the most converting profit potential, in a mere 10 minutes.
These templates will enable you to:
Create beautiful, high-converting VSLs in minutes. Save WEEKS of time and THOUSADS of dollars on outsourcing.
Convert higher than ever before. Our VSLs are proven to boost conversion by 50%, or more.
Reach new audiences. Video is surging in popularity because people love it (especially the ever-growing base of mobile users). Now you'll reach new people and a market that grows larger every day.
Establish authority and stand out from the competition. Video immediately boosts your authority, and now you can take advantage of all of its perks in 10 minutes from now.
Sell videos you can be proud of for thousands; do the work in minutes. Other clients and local businesses will pay top dollar for videos of this quality, and you can be proud of what you deliver to them. Best part? It'll take you 10 minutes or less to do any actual "work". Nothing beats that!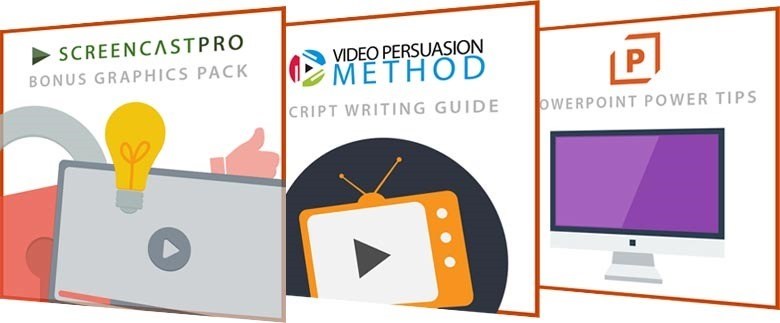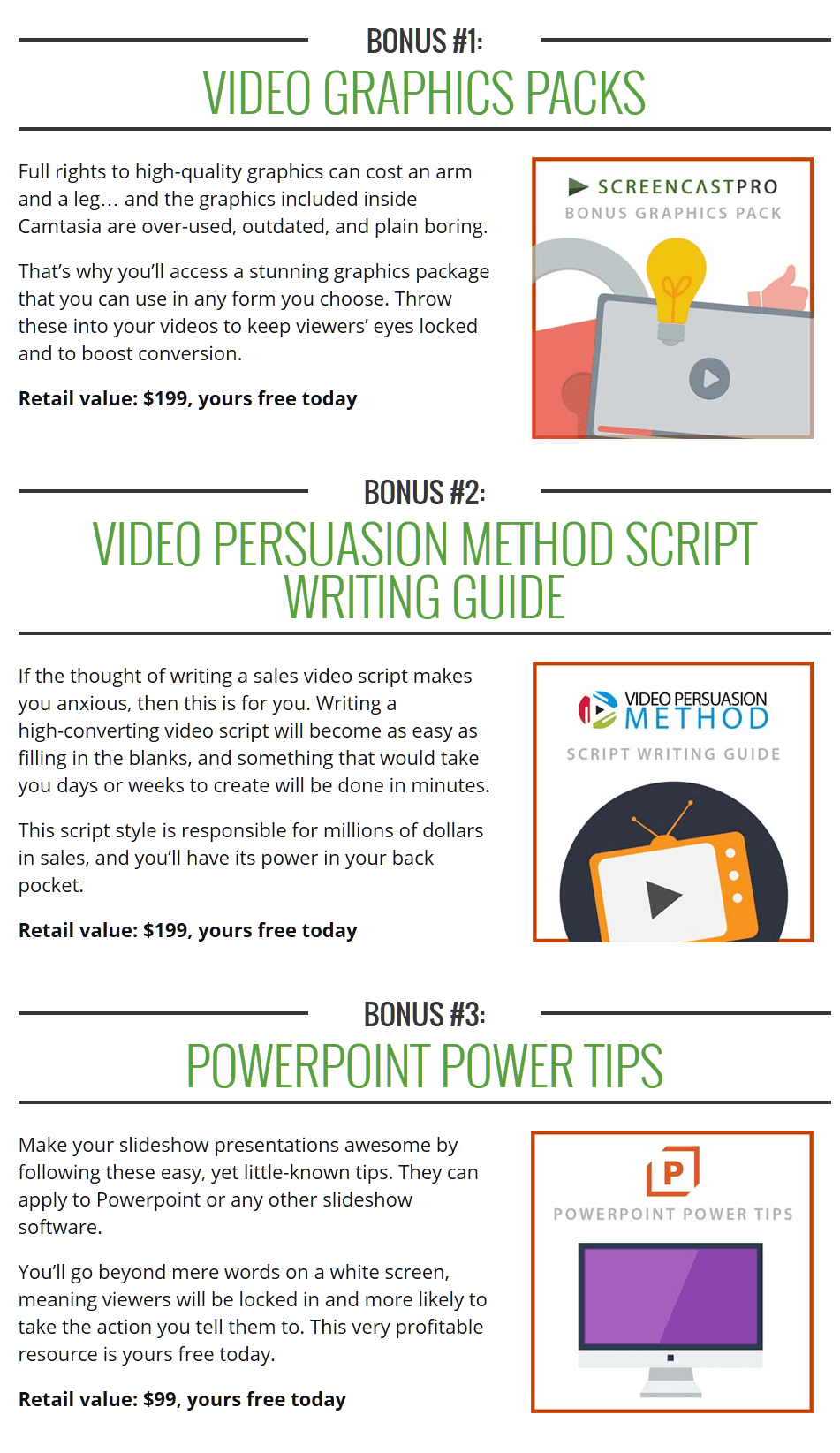 Course preview and screenshots
ScreenCast PRO Contains: Videos, PDF´s, Templates, OTO