The SEO Masters Certification Training Course
Available now for self-study at your own pace in your own comfort zone
This Certification Course WILL make YOU money!
I know, bold claim. But it's true and we can guarantee it!! …read on, and you'll see why we're so sure.
Like no other training we've done, THIS is the course where our experts peel back the curtain, take you by the hand, and actually *show* you how they boost their bottom line and grow their customer base by providing a package of very specific SEO Agency Services that are…
profitable on the front end
and provide continuous streams of revenue on the back end.
So, sit up and take notes my friend, because this is the training that'll provide you with the best ROI for 2015!
Here's what you'll learn how to do…
The Website Audit
(for which we charge clients $1,250)
The SEO Master's Course shows you specifically what we do in a Website Audit. From the SEO Agency standpoint, it's simply one of our very best money making and client prospecting tools. When we find a company we want as a client, we use the Website Audit as the carrot to attract their interest and secure the appointment. This often leads into an ongoing relationship with recurring maintenance fees that provide a continuous stream of steady income.
The Master's course uses a demo website to take you all the way through every tiny detail of the process, leaving no stone unturned. You'll see our steps and procedures as they typically unfold. Once you've finished this section of the Masters Course, you'll be armed to close the clients you choose, instead of trolling for just anybody you can get.
Over the years we've seen this – the ability to pick and choose clients — to be THE big difference between the pros that thrive and those that just survive. Owning the 'how to' for the Website Audit Process arms you with a prospecting tool that makes you a chooser and your competition the loser. It gives you the closing hook you need to elevate your game, captivate the attention of your prospect, and ratchet-up your bottom line!
Super-Optimization Strategies
(for which we charge $150 an hour)
This section reveals all of the little things that add up to become one SUPER advantage. Seemingly insignificant improvements like reducing page-load speeds, cleaning up mobile usability errors, increasing a site's quality signals and maximizing the benefits of structured data markups all combine to provide a formidable edge over less efficiently engineered competitor pages.
Simply put, these are the elements that become the "unexplained" REASON why some webpages rank better when all other factors seem equal.
Link Building for 2015 (for which we charge between $500 to $5,000+ a month, recurring)
As you probably know, Google no longer favors such formerly popular and effective link strategies as Article, Press Release, Advertorial and Guest Blogging links. And, by taking away the relevance of these links (and even penalizing sites for using them), a huge percentage of sites have seen their webpage rankings buried in the bowels of the search results. The solution is to remap the site's linking strategy. Easy to say, tricky to do!
That's why this section of the course focuses on Next-Gen link building strategies that are actually working in 2015 and are projected to continue working beyond this year. The Master's Course gives you the road map you need for implementing tried, tested, and safe link building strategies that you'll be able to confidently offer to high end clients as part of your packaged suite of SEO and search-marketing services. This will give you a tremendous advantage over your competition. And, it provides a compelling reason for clients to choose YOUR services over others.
By the way, you may remember that we recently did a "LIVE" and comprehensive SEO Master's Certification Training Course and, yeah, you missed the course and it really was pretty amazing. But, don't worry, you can still learn what everyone else learned because we recorded everything! …and we edited out the glitches, coughs and pauses so you get only the laser-focused course-content that's packaged for easy self-study.
The SEO Master's Certification Training Course self-study package includes:
Three Recorded Classroom Sessions that are followed by Q&A: The complete session videos, MP3 audios, and PDF slides are available for each session compatible for viewing on any device; desktop, laptop, notepad, or mobile. Here are the total Run Times including the Q&A…
One Recorded Mega-Q&A, Session Four, that runs for the whole 105 minutes. This is where the LIVE participants peppered our expert trainers (Casey Markee & John Heard), with every question they could think of. And, YOU get to be the fly on the wall that listens-in to this insightful exchange between students and teachers.
30 days of Unlimited Free FastAnswers to all of your questions: Honestly, it's hard to imagine you'd think of many (or any) questions that weren't already asked & answered in the course. But, if you do, then you can the ask the expert just like the LIVE participants could. As you work your way through the classroom sessions, write down your questions. As they get answered throughout the course, check them off. When you finish the course, simply email any of your unanswered questions to us and you'll have your answers from one of our knowledgeable experts within one business day. (value: $49 per FastAnswers reply)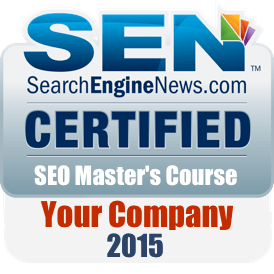 Course preview and screenshots
SEN – SEO Masterclass 2.0 Contains: Videos, PDF´s, Audios